Roasted Eggplant Bisque with Harissa and Parmesan Crisps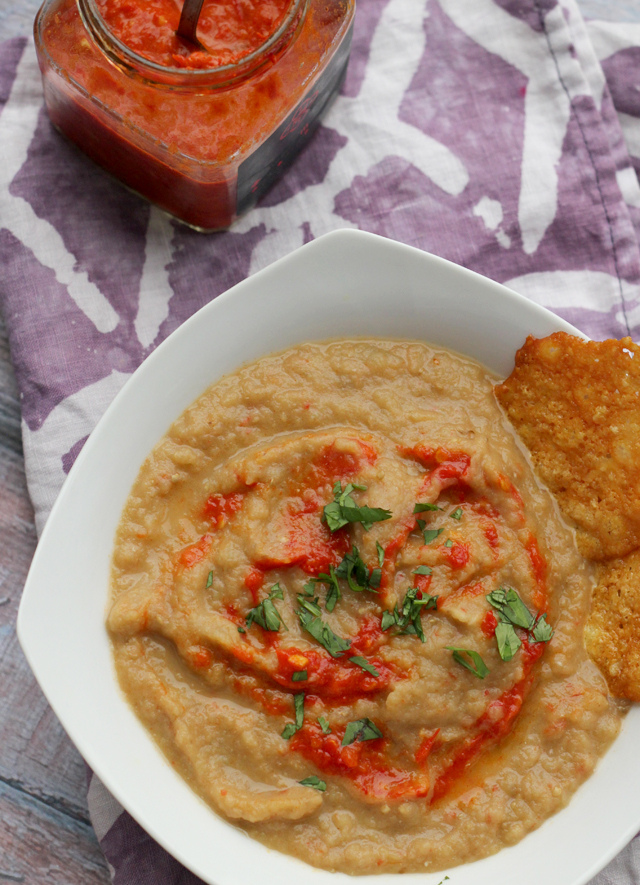 8 tbsp grated Parmesan cheese
1 large eggplant, peeled and diced
1 medium tomato, seeded and coarsely chopped
1 onion, chopped
1 tbsp olive oil
1 tsp garlic powder
2 cups vegetable broth
2 tbsp heavy cream
2 tbsp honey
3 tbsp harissa, divided
½ tsp salt, plus more to taste
2 tsp chopped fresh cilantro
Heat oven to 400F. On a parchment-lined baking sheet, sprinkle the cheese into 8 circles, about 1½ to 2-inches in diameter. Bake for 7-8 minutes or until golden brown. Let cool on pan. Set aside.
Lower oven to 375. In a large bowl, toss together the eggplant, tomato, onion, olive oil, garlic powder, and a good pinch of salt and black pepper. Place on a foil-lined baking sheet and roast for 20-30 minutes, or until softened.
Pour vegetables into a large pot with the vegetable broth. Bring to a simmer. Remove from heat and, using an immersion blender, puree. Alternatively, you can pour the mixture into a regular blender and puree it.
Stir in the cream, honey, 2 tbsp of the harissa, and salt. Bring back to a simmer to heat through. Divide among four bowls. Top each with 1 tsp of harissa, cilantro, and two parmesan crisps.