Blood Orange Greek Yogurt Poppyseed Pancakes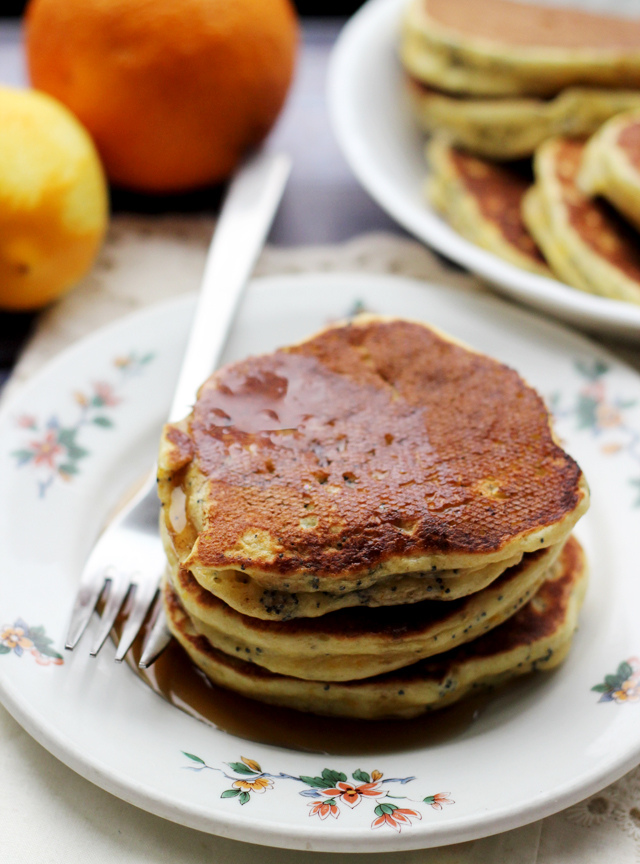 1 cup flour
1¼ tsp baking soda
¼ tsp salt
2 tsp blood orange zest
3 tbsp sugar
1 cup lowfat California Greek yogurt (I used Wallaby Greek yogurt)
2 large eggs, lightly beaten
1 tsp vanilla
1 tbsp poppy seeds
In a small bowl, whisk together the flour, baking soda and salt. Set aside.
In a second small bowl, combine the blood orange zest and sugar, rubbing them together with your fingers to release the essential oils from the orange zest. Set aside.
In a large bowl, whisk together the Greek yogurt, eggs, and vanilla. Whisk in the orange sugar mixture until combined. Fold in the flour mixture until just combined.
Stir in the poppy seeds.
Heat a griddle or nonstick skillet. Pour the batter onto the griddle (or into the pan), a quarter cup at a time, making sure not to crowd the griddle/pan. Cook on one side until small bubbles start to form and pop, about 2-3 minutes. Flip and cook for another minute more. Remove to a plate and repeat with remaining batter. Serve with maple syrup.
Serving size:
3-4 pancakes