Kung Pao Chickpea Tacos {GIVEAWAY}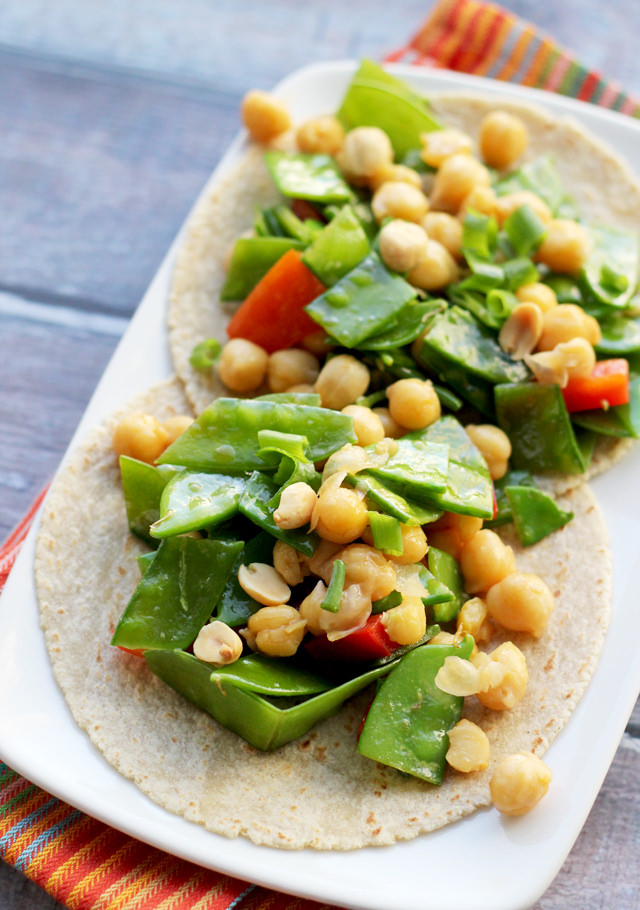 1 cup dried chickpeas, soaked overnight and then boiled until tender or 14 oz canned chickpeas
2 tbsp soy sauce
1½ tsp cornstarch
1½ tbsp honey
2 tbsp dark sesame oil, divided
2 tsp rice vinegar
1 tsp sriracha
1 red bell pepper, sliced thinly
1 lb snow peas, coarsely chopped
3 tbsp coarsely chopped dry-roasted peanuts
8 (6-inch) corn tortillas
Prepare chickpeas according to package instructions.
Whisk together the soy sauce, cornstarch, honey, sesame oil, rice vinegar, and sriracha.
Heat sesame oil over medium heat in a large skillet. Add the pepper slices and snow peas to the skillet, sauteing until tender, 4-5 minutes. Add in the sauce and chickpeas, and cook until heated through.
Distribute the filling among the tortillas and top with the peanuts. Serve.
Adapted from
Cooking Light Global Kitchen: The World's Most Delicious Food Made Easy