Salted Caramel Peanut Pie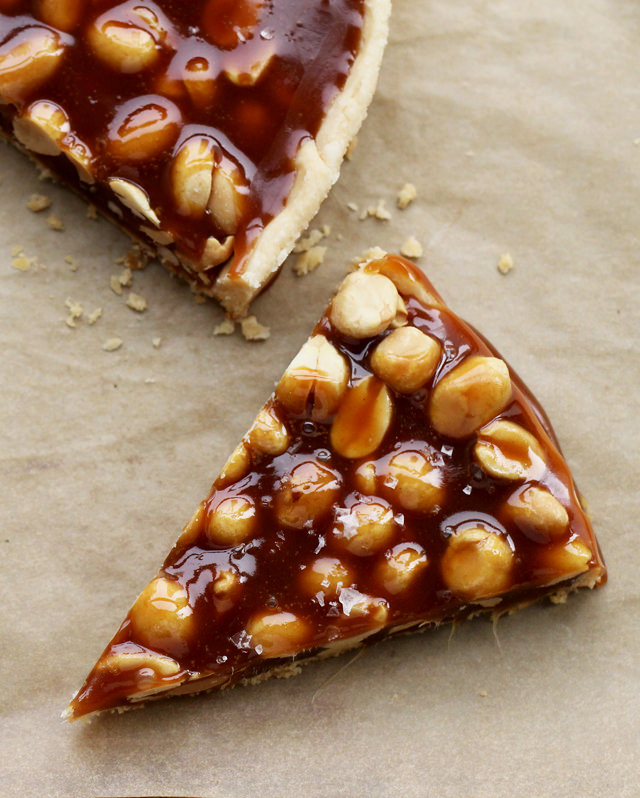 1 cup + 1½ tbsp all purpose flour, divided
½ tsp salt
4 oz cold unsalted butter, cut into ¼-inch cubes
2 tbsp ice water
½ cup glucose or corn syrup
1¼ cups sugar
1.5 oz (3 tbsp) unsalted butter, cut into small cubes
1 cup + 1½ tbsp original Silk soy milk creamer, warm
6.5 oz peanuts, toasted
sea salt, for sprinkling
Place ½ cup of the flour and the salt in the bowl of a stand mixer fitted with a paddle attachment, mixing briefly to combine. Add in the butter a little bit at a time with the mixer on low, mixing until all the butter has been added. Increase the speed to medium-low and mix for 1 more minute. Scrape down the sides of the bowl and add in the remaining flour, mixing until just combined. Add in the water and mix until the dough starts to come together.
Pat the dough into a 7-inch disk and wrap in plastic wrap. Refrigerate for at least one hour or overnight.
Preheat the oven to 325. Roll out the dough to an 11-inch round. Use it to line a either an 8-inch tart ring or an 8-inch tart pan, on a parchment-lined baking sheet. Top with a sheet of parchment paper and then either baking beans, pie weights or raw rice, filling the tart ring or pan. Bake for 20 minutes. Rotate the pan and then bake for another 20 minutes. Remove the parchment and pie weights, and then bake for 15 minutes more. Set on a wire rack to cool.
In the meantime, make the caramel. Put the glucose in a large pot and bring to a boil over high heat. Reduce the heat to medium-high and add the sugar in thirds, mixing after each addition. Cook until the sugar has dissolved and reached an amber color, at about 350F/177C, reduce the heat to medium. Stir in the butter, stirring to melt. Immediately add in the creamer, stirring continuously. Continue cooking until the mixture reaches 248F/120C. Remove from the heat. Strain the caramel through a fine-meshed strainer.
Pour the peanuts into the tart shell. Pour the caramel over the peanuts while still warm, filling the tart shell. Sprinkle with sea salt. Let cool before serving.
Adapted from
Bouchon Bakery
Made with this
tart ring
, and this
glucose
.