Fire-Roasted Tomato Orange Soup with Classic Grilled Cheese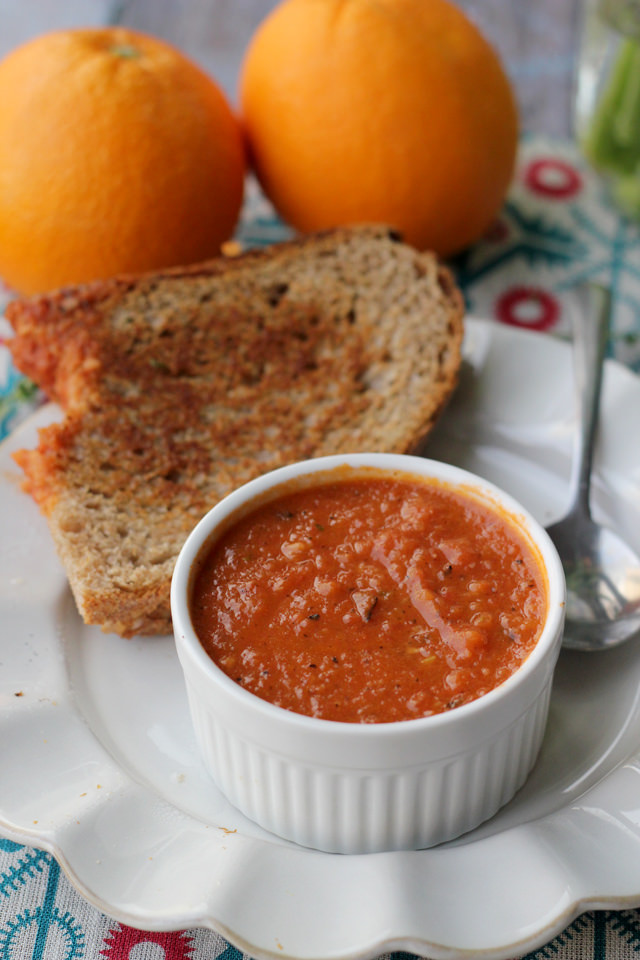 4 tbsp unsalted butter
1 red onion, chopped
2 tsp kosher salt
4 garlic cloves, coarsely chopped
1 tbsp fresh thyme, coarsely chopped
½ tsp cinnamon
28 oz canned diced tomatoes
1 cup water
1 cup freshly squeezed orange juice (I used Cara Cara oranges)
1 tsp sherry vinegar
black pepper, to taste
8 slices whole grain bread (I used an organic spelt bread)
4 oz sharp cheddar cheese, grated
2 tbsp unsalted butter
To make the soup, melt the butter in a large pot over medium heat. Add in the red onion and salt, and let cook until tender, about 5 minutes, stirring frequently. Stir in the garlic, thyme, and cinnamon. Cook until fragrant, about 30 seconds.
Add the tomatoes, water, and orange juice to the pot, scraping the bottom to bring up any bits that might have stuck to the pan. Bring to a boil and then lower to a simmer, allowing to cook for 20-25 minutes.
Turn off the heat and, using an immersion blender, blend until smooth. Alternatively, you can transfer to a blender or food processor and blend until smooth. Stir in the sherry vinegar and black pepper, to taste.
Meanwhile, for the grilled cheese, pair the bread slices. Rub butter over the sides of the bread that will be on the outside of the sandwich. Divide grated cheese among the bread pairs.
Heat a small nonstick skillet over medium-high heat. One at a time, put the sandwiches into the pan and cover, cooking until one side is crispy, and then flipping and cooking until second side is crispy and cheese is melted. Repeat with remaining sandwiches.
Divide soup among four bowls and serve with the sandwiches!
Recipe slightly adapted from
Aida Mollenkamp's Keys to the Kitchen: The Essential Reference for Becoming a More Accomplished, Adventurous Cook
Serving size:
¼ of recipe