Kale Tabbouleh with Sour Cherries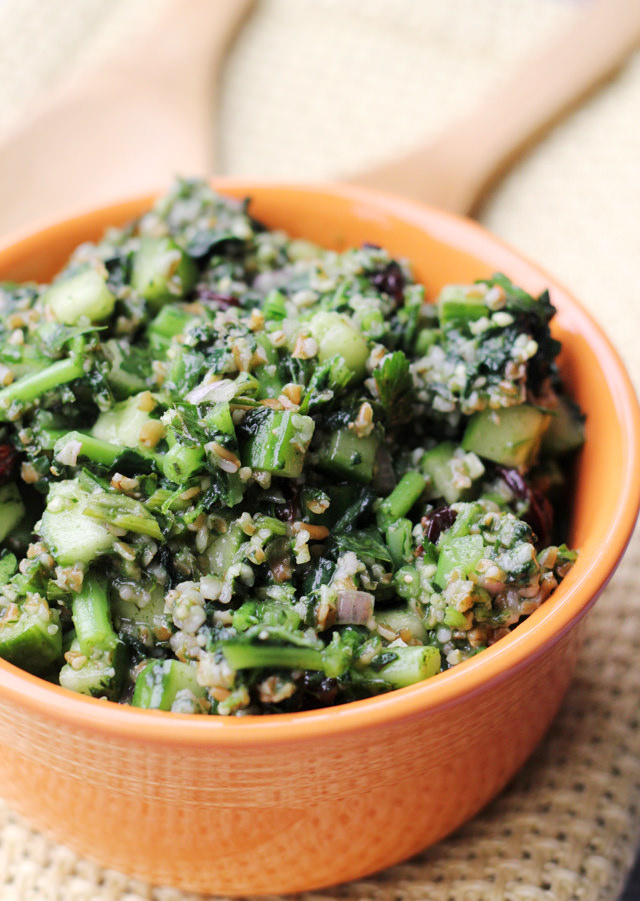 ½ cup bulgur
1½ cups water
1 lb lacinato kale
½ cup salt
1 tsp baking soda
1 shallot, minced
1 garlic clove, minced
1 cup chopped parsley
¼ cup chopped mint
1 European cucumber, seeded and diced
½ cup dried sour cherries
¼ cup olive oil
2 tbsp lime juice
pinch of sugar
salt and black pepper, to taste
In a medium pot, combine the bulgur with 1½ cups of water. Bring to a boil, then simmer for three minutes. Cover and remove from the heat. Let stand for 15 minutes. Simmer off any remaining liquid.
Meanwhile, in a large pot, bring 16 cups of water, ½ cup salt, and baking soda to a boil. Add in the kale and cook for 3 minutes. Drain and then coarsely chop. Set aside.
In a large bowl, toss together the shallot, garlic, parsley, mint, cucumber, dried cherries, olive oil, lime juice, and a pinch of sugar. Stir in the kale and bulgur. Season to taste with salt and pepper.