Butternut Squash and Spinach Lasagna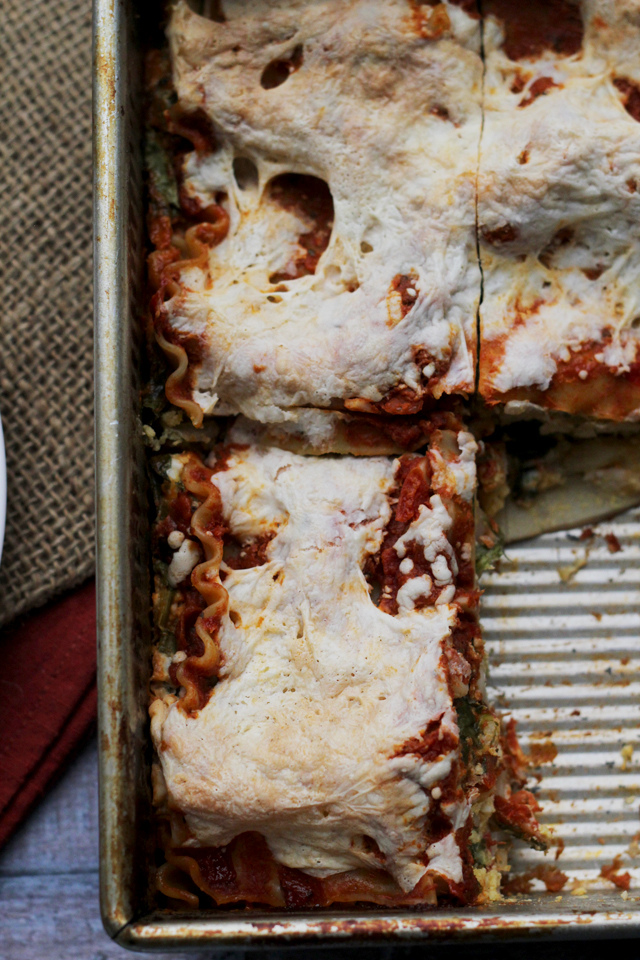 1¼ lb butternut squash, peeled and cut into ½-inch cubes
3 tbsp olive oil, divided
salt and black pepper, to taste
1 onion, diced
½ lb roasted red peppers, diced
4 cloves garlic, minced
½ tsp Tuscan seasoning
8 oz ricotta cheese
2 eggs, lightly beaten
1 lb fresh mozzarella, shredded, divided
2 cups marinara sauce
1 lb lasagna noodles
5 oz baby spinach leaves
Preheat the oven to 400. Toss the butternut squash with 1 tbsp olive oil, salt and black pepper. Roast for 25-30 minutes or until tender.
Meanwhile, heat the remaining olive oil in a large pan over medium heat. Saute the onion, roasted peppers, garlic, and tuscan seasoning with a pinch of salt until tender, about 5 minutes. Set aside.
In the bowl of a food processor, combine the butternut squash, ricotta, and eggs until smooth and creamy. Remove to a bowl and stir in ½ cup mozzarella, the onion, roasted red pepper, and garlic mix. Season to taste with salt and black pepper.
Lower oven to 375.
Spread about ½ cup of the sauce on the bottom of a 9x13-inch baking pan. Spread a layer of the lasagna noodles over the bottom. Cover with half of the ricotta mixture, a layer of sauce, ⅓ of the mozzarella, and half of the spinach. Cover with another layer of noodles, followed by the remaining ricotta, another layer of sauce, ½ of the remaining mozzarella, and the remainder of the spinach.
Cover with a final layer of noodles, a generous layer of sauce and the rest of the mozzarella.
Cover the pan tightly with aluminum foil and bake for 30 minutes. Remove the foil and bake for another 20 minutes, or until cheese is starting to brown and bubble. Let rest for 5-10 minutes before serving.