Yellow Birthday Cake with Fluffy Chocolate Ganache Frosting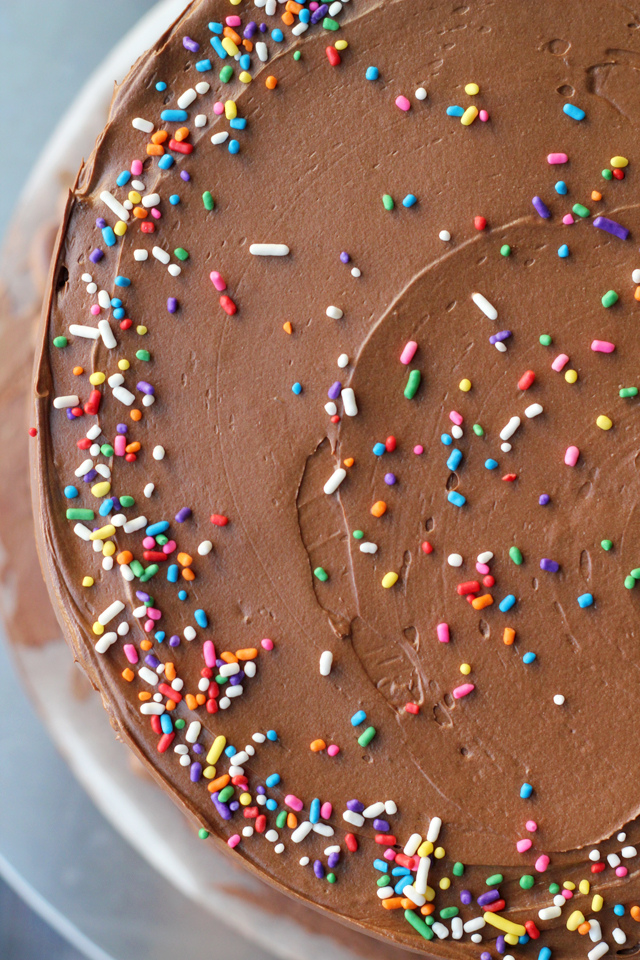 1½ cups unsalted butter, room temperature
2 cups sugar
3 eggs
3 egg yolks
1 tsp vanilla extract
3 cups cake flour
1 tsp baking powder
½ tsp baking soda
½ tsp kosher salt
1 cup lowfat buttermilk
12 oz semisweet chocolate, finely chopped
1 cup heavy cream
1 cup unsalted butter, room temperature
1 cup confectioner's sugar
¼ tsp kosher salt
½ tsp vanilla extract
Heat oven to 350. Line two 8-inch cake pans with parchment paper and grease.
Using a stand mixer fitted with a paddle attachment, cream together the butter and sugar on medium-high speed for 3-5 minutes, until fluffy. Scape down the sides of the bowl as necessary.
In a separate bowl, whisk together the eggs, egg yolks, and vanilla. Pour this into the stand mixer bowl and mix together on low speed, until just incorporated. Scrape down the sides of the bowl and then beat again for 30 seconds.
In a medium bowl, whisk together the flour, baking powder, baking soda, and salt. Alternating with the buttermilk, add the flour in 3 additions, with the buttermilk added in-between each. Scrape down the sides of the bowl after each addition and make sure to mix until just combined.
Give the batter one more mix by hand, folding it carefully. Divide evenly between the cake pans.
Bake for 40-50 minutes or until a toothpick inserted comes out clean. Let cool for 20 minutes and then remove from the pans to a wire rack to cool completely.
For the frosting, put the chocolate in a medium bowl. Scald the heavy cream in a small saucepan (when bubbles start to form around the sides of the pan), and then pour over the chocolate. Allow to sit for 1 minute and then stir the chocolate into the cream until totally smooth and melted. Let sit at room temperature until cool, about an hour.
In a stand mixer fitted with the paddle attachment, beat the butter until fluffy, about 15 seconds on medium-low speed. Add the confectioner's sugar, salt and vanilla and continue to beat until fluffy, about 2 minutes. Scrape down the sides of the bowl and beat again for a few seconds. Add in the ganache and beat for about 2 minutes, until completely combined. Scrape the bowl and beat on medium-high for 1 minute or until the frosting starts to thicken.
Use a serrated knife to trim the top of the cakes so that they are even. Place one cake layer on a plate or cake stand. Spread 1 cup of frosting over the top of the cake, using an offset spatula to spread it evenly. Place the second cake layer on top of the first, top-down. Spoon about 1 cup of the frosting over the top of the cake and spread it on the top and sides, covering with a thin crumb coat. Refrigerate for 10 minutes to set. Frost with remaining frosting, spreading it evenly all over the cake. Decorate as desired.
Very slightly adapted from
Flour: Spectacular Recipes from Boston's Flour Bakery + Cafe