French Toast with Rhubarb-Mango Compote and Creme Fraiche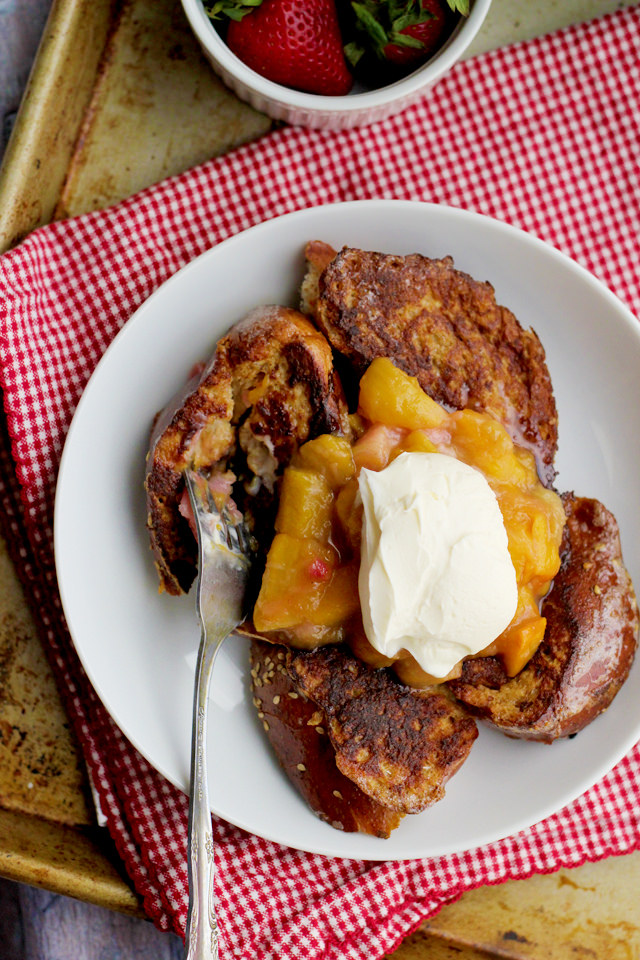 1 tbsp butter, plus more for pan
1 lb rhubarb, sliced into ½-inch pieces
2 mangoes, seeded chopped into ½-inch cubes
½ cup sugar
1 tsp dried ginger
1 loaf challah bread, cut into 1½-inch thick slices
2 eggs
½ cup milk
1 tbsp cinnamon
4 oz creme fraiche
In a large pot, melt 1 tbsp butter over medium heat. Add in the rhubarb, mangoes, sugar, and dried ginger. Bring to a simmer as sugar melts and juices are released from rhubarb and mango, cooking until rhubarb is falling apart and juices are thickened, about 10-15 minutes, stirring frequently. Remove from the heat and set aside.
For the french toast, in a large bowl, whisk together the eggs, milk, and cinnamon. Dip the bread slices in the egg batter on both sides, allowing it to sit for a few seconds to absorb the liquid.
In a large pan or on a griddle, melt a tbsp of butter. Add as many french toast slices as can fit and cook over medium heat, 2-3 minutes per side, until golden brown. Set aside and repeat with remaining slices.
Serve French toast topped with mango-rhubarb compote and a dollop of creme fraiche.
An Eats Well With Others Original
Serving size:
¼ of recipe
Recipe by
Joanne Eats Well With Others
at https://joanne-eatswellwithothers.com/2014/04/french-toast-rhubarb-mango-compote-creme-fraiche.html