Open-Faced Spinach, Artichoke and White Bean Grilled Cheese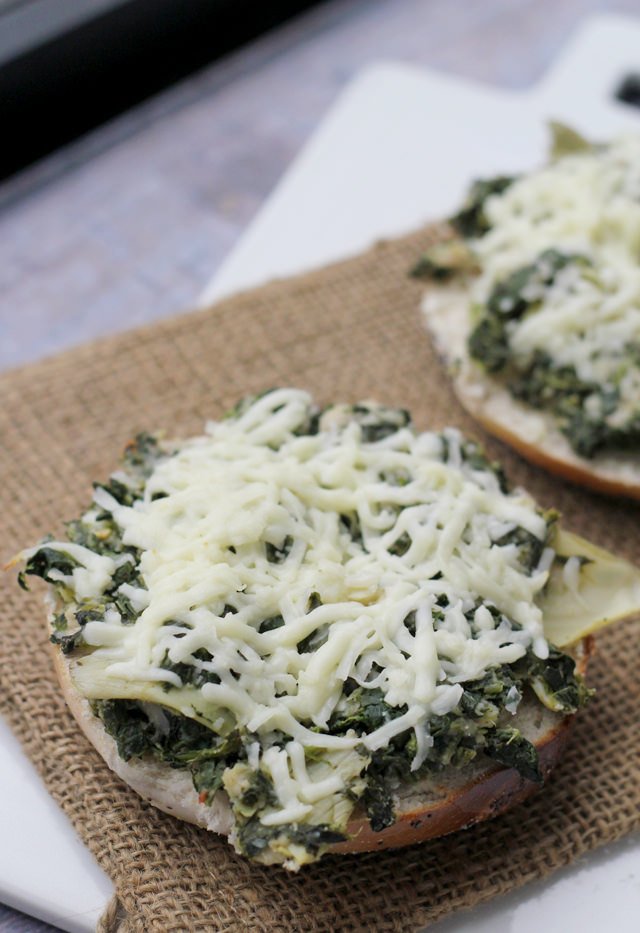 ¼ cup parmesan cheese
¼ cup creme fraiche
1 tsp fresh lemon juice
¼ tsp salt
¼ tsp black pepper
⅛ tsp red pepper flakes
2 garlic cloves, minced
15 oz canned white beans, drained and rinsed
14 oz canned artichoke hearts, drained and quartered
1 lb frozen chopped spinach, thawed and squeezed of excess water
½ cup shredded mozzarella cheese
5 bagels
Preheat the oven to 400.
In the bowl of a food processor, combine the parmesan cheese, creme fraiche, lemon juice, salt, black pepper, red pepper flakes, garlic, and white beans. Pulse until smooth.
Transfer to a large bowl and stir in the artichoke hearts and spinach. Season to taste with salt and pepper.
Spread the dip over your carbohydrate of choice. Top with shredded cheese, place on a parchment-lined baking sheet, and bake for 5-10 minutes, until the cheese is melty and starting to brown. Serve warm.
Recipe by
Joanne Eats Well With Others
at https://joanne-eatswellwithothers.com/2014/04/open-faced-spinach-artichoke-white-bean-grilled-cheese.html