Spicy Coconut Rice Noodles with Kale and Basil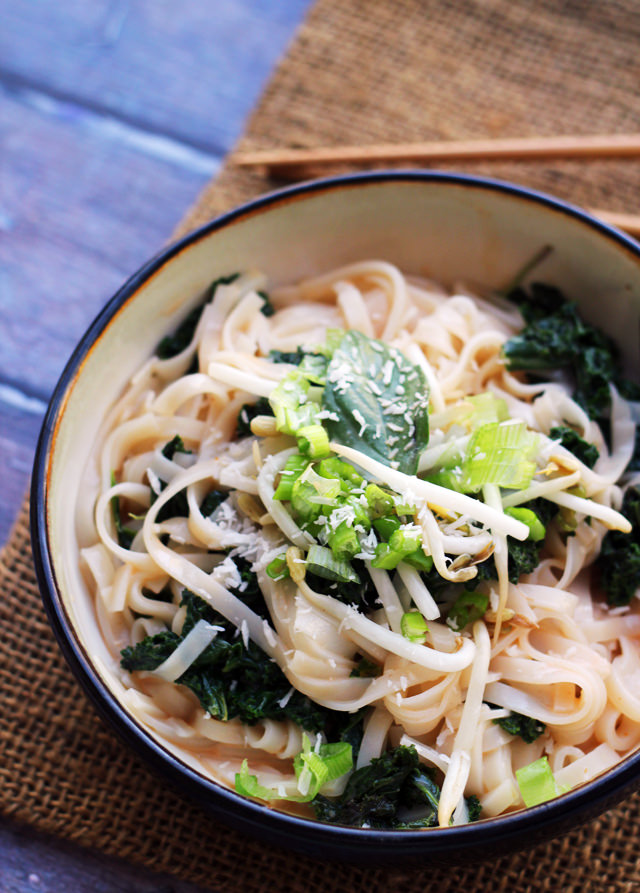 1 bunch of kale
¼ cup Thai basil or regular basil
½ cup bean sprouts
½ bunch scallions
6 oz rice noodles
½ tbsp sesame oil
14 oz coconut milk
1½ tbsp tomato paste
½ tsp chili powder
½ tbsp gochujang paste
2 tbsp unsweetened coconut flakes
Preheat the oven to 400. Bring 6 cups water to a boil.
In the meantime, rinse the kale and cut the leaves into thin slices, discarding the stems. Set aside.
Rinse the Thai basil and pick the leaves, discarding the stems. Drain and rinse the bean sprouts. Rinse the scallions and thinly slice the white and light green parts, discarding the rest.
Place the rice noodles in a large heatproof bowl and pour the boiling water over them. Soak for 10 minutes, or until tender. Drain and rinse under cold water.
While the rice noodles are cooking, heat the sesame oil in a large pan over medium heat. When the oil is hot, add in the kale and cook until it is bright green, about 3-4 minutes. Increase the heat to medium-high and add in the coconut milk, tomato paste, chili powder, and gochujang. Stir until well combined.
Bring the sauce to a boil and then lower to a simmer. Cook for 5 minutes, or until thickened. Season to taste with salt.
Meanwhile, pour the coconut flakes onto a parchment-lined baking sheet in a single layer. Toast until golden, 3 minutes.
Toss together the cooked rice noodles, Thai basil and sauce. Divide evenly between two bowls. Garnish with bean sprouts, scallions, and toasted coconut.