Corn, Asparagus, and Basil Barley Risotto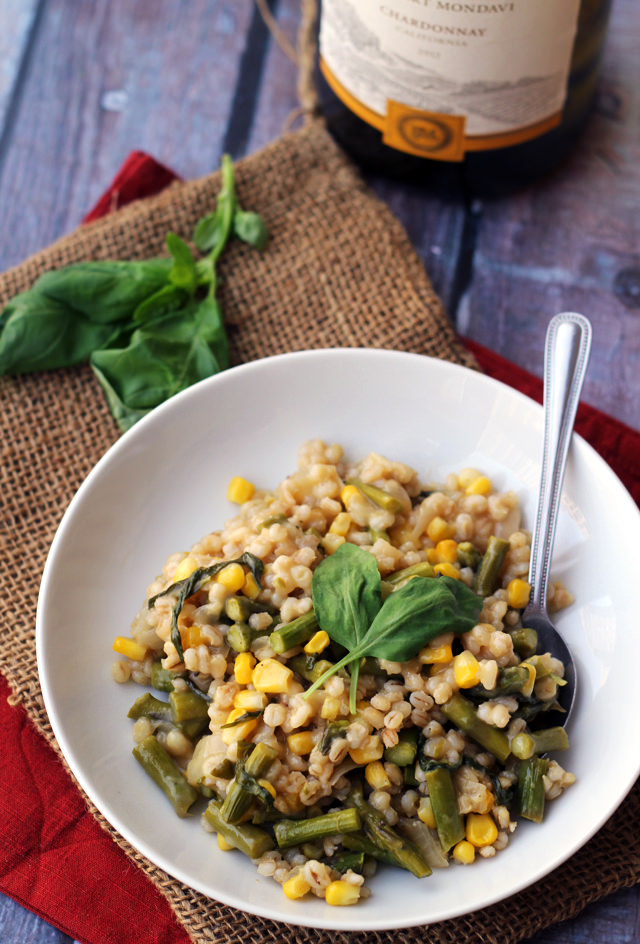 4 cups vegetable broth
4 cups water
2 tbsp olive oil
1 onion, chopped
salt and black pepper, to taste
1 cup barley
½ cup white wine
1 lb asparagus, trimmed and cut into ½-inch slices
1½ cups corn, fresh or frozen
1 cup basil, thinly sliced
¼ cup parmesan cheese
Combine the vegetable broth and water in a medium pot. Bring to a simmer.
Heat the olive oil in a large pot over medium heat. Add in the onion and a pinch of salt, and saute until tender, about 3 minutes. Stir in the barley and cook for a minute, stirring constantly. Add in the white wine and cook until almost totally evaporated.
Pour 2 cups of the heated broth mixture into the pot with the barley. Cook stirring frequently until almost evaporated. Then, add in the broth mixture 1 cup at a time, only adding more after the rest has almost evaporated, stirring frequently. Repeat until barley is cooked through and tender.
Add in the asparagus with a final cup of the broth mixture, simmering until almost evaporated. Stir in the corn and cook until heated through.
Remove from the heat and stir in the basil and parmesan cheese. Season to taste with salt and black pepper.
An Eats Well With Others Original
Recipe by
Joanne Eats Well With Others
at https://joanne-eatswellwithothers.com/2014/04/corn-asparagus-basil-barley-risotto.html