Chocolate Cookie Sandwiches with Malted Milk Chocolate Buttercream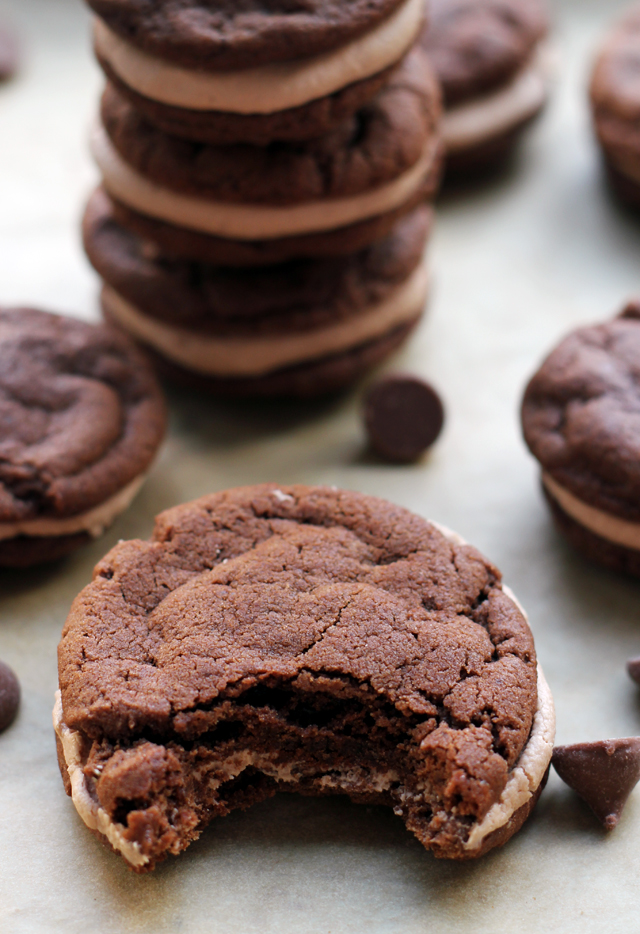 Yield:
2 dozen sandwiches
1½ cups all-purpose flour
⅓ cup dark or Dutch-processed cocoa powder
½ teaspoon instant espresso powder
½ teaspoon salt
½ teaspoon baking powder
¼ teaspoon baking soda
½ cup (1 stick) unsalted butter, room temperature
1¼ cup granulated sugar
1 egg
1 teaspoon vanilla extract
3½ ounces milk chocolate, chopped
⅓ cup unsalted butter, room temperature
2 cups powdered sugar, sifted, plus more as needed
2 tablespoons heavy cream, plus more as needed
1 tablespoon malted milk powder
½ teaspoon vanilla extract
pinch of salt
Heat oven to 375.
In a large bowl, whisk together the flour, cocoa powder, espresso powder, salt, baking powder, and baking soda. Set aside.
In the bowl of a stand mixer fitted with the paddle attachment, cream together the butter and sugar until fluffy, about 3 minutes on medium speed. Add in the egg and vanilla. Mix until combined.
Slowly add in the flour mixture and combine until totally smooth and no dry flour specks remain, scraping down the bowl to make sure everything is incorporated.
Drop the dough by the tablespoon onto parchment-lined baking sheets. Roll into a ball and then flatten slightly. Bake for 8-9 minutes, or until cookies are puffy and set. Let cool on the baking sheet for 5 minutes and then move to a wire rack to cool completely.
For the buttercream, melt the milk chocolate in a microwave. Let cool while you prepare the rest of the buttercream.
In a mixing bowl, beat the butter until fluffy, 1-2 minutes. Add the powdered sugar, mixing well to combine. Add the cooled milk chocolate and beat until smooth.
In a small bowl, combine the heavy cream and malted milk powder, whisking to combine. Add to the buttercream, along with the vanilla and salt. Mix until combined and fluffy, 2-3 minutes..
Spread about 1 tbsp of buttercream onto about half of the cookies. Top with a second cookie and press down slightly until the filling reaches the edges.
Serving size:
1 cookie sandwich