Chocolate Mousse-Covered Strawberry Pie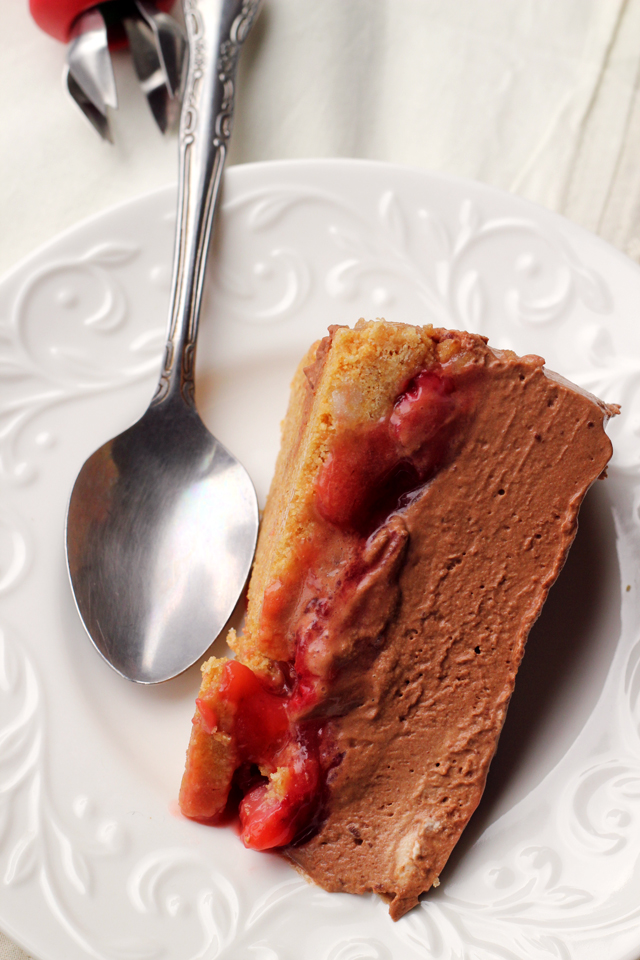 1½ cups graham cracker crumbs
½ cup unsalted butter, melted and cooled slightly
¼ cup sugar
5 cups hulled and quartered strawberries, divided
¾ cup sugar
¼ cup cornstarch
pinch of salt
1 tsp vanilla extract
¼ tsp almond extract
1 tbsp lemon juice
12 oz semisweet chocolate, chopped
1 cup lowfat milk
2 cups heavy cream
1 tsp vanilla
pinch of salt
In a large bowl, stir together the graham cracker crumbs, butter and sugar. Press into a 9-inch springform pan. Put in the fridge to chill while you make the filling.
For the strawberry pie filling, in a large pan, combine 2 cups of the strawberries, the sugar, cornstarch, salt, vanilla, almond extract, and lemon juice. Simmer until thickened, mashing the strawberries until they are almost puree, about 3-5 minutes.
Stir the remaining 3 cups strawberries into the pan and remove from the heat. Pour into the graham cracker crust and refrigerate while you make the chocolate mousse filling.
In a microwave-safe bowl, combine the chocolate and milk. Microwave in 30 second increments until the chocolate is melted, stirring after each.
Let cool slightly.
Meanwhile, beat the heavy cream until stiff peaks form. Stir the chocolate mixture, vanilla, and salt into the heavy cream. Continue to beat until the peaks are as stiff as possible. They should almost be able to hold a stiff peak.
Pour the mousse over the strawberries and spread evenly. Let refrigerate overnight or until set.