Dal Makhani (Black Lentils with Rich Tomato Sauce)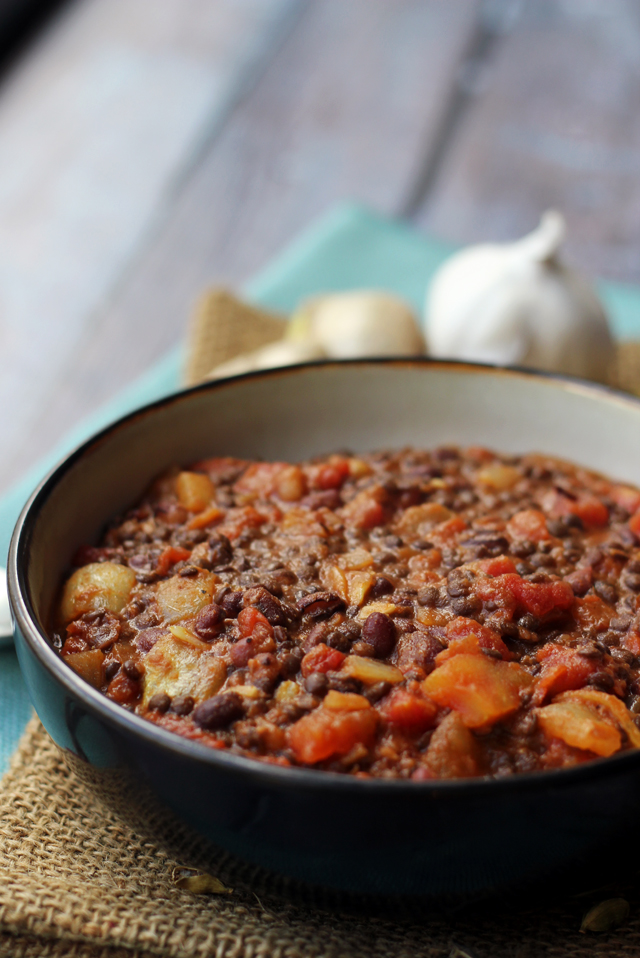 1 cup dried black lentils
1 cup dried adzuki beans
water, to soak and cook beans
3 tbsp olive oil
2 large onions, chopped
6 large cloves garlic, minced
1-inch piece of fresh ginger, grated
1 bay leaf
1-inch piece of cinnamon stick
2 cardamom pods
2 dried small hot red chili peppers
1½ tbsp garam masala
¾ tsp coriander
¾ tsp cumin
¾ tsp chili powder
¾ tsp sweet paprika
¼ tsp ground fenugreek
¼ tsp ground black pepper
1 tsp coarse kosher salt
14 oz canned diced tomatoes
6 oz tomato paste
2 cups vegetable broth
4 tbsp unsalted butter
½ cup lowfat milk
Soak the lentil and the adzuki beans in a large bowl of water overnight. Drain off the water the next day.
In a large pot, combine the beans. Cover with water by 1 inch. Add a big pinch of salt and bring to a boil. Cover and lower the heat to a simmer, cooking for 1 hour or until tender. Drain.
Meanwhile, heat the olive oil in a large skillet. Cook the onions over medium-low heat for 15 minutes, or until starting to caramelize, stirring frequently.
Stir in the garlic and ginger, and cook for 1 minute, or until fragrant.
Add the bay leaf, cinnamon stick, cardamom pods, chili peppers, garam masala, coriander, cumin, chili powder, paprika, fenugreek, black pepper, and salt to the pot. Cook, stirring constantly, for 30 seconds.
Pour the tomatoes, vegetable broth, and tomato pasta into the pot, along with the cooked beans and lentils. Bring to a boil and then simmer until thickened, about 15 minutes. Season to taste with salt and black pepper. Remove the bay leaf, cinnamon stick, and cardamom pods from the pot.
Stir in the butter and milk until combined. Serve warm, over rice or with naan.