Roasted Zucchini, Garlic and Basil Hummus Sandwiches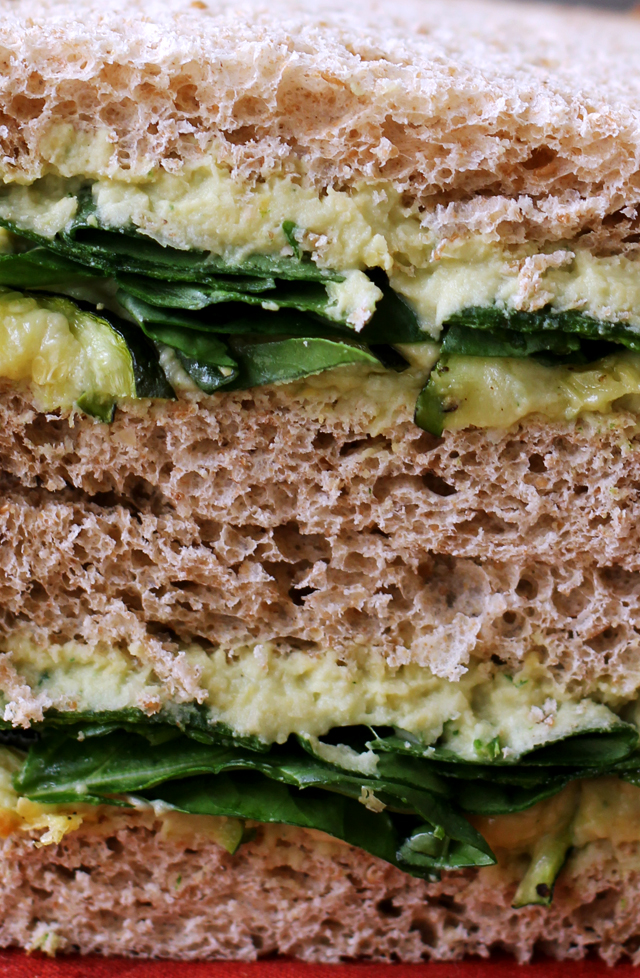 1 head garlic
4 tbsp olive oil, divided
2 zucchini, thinly sliced into coins
salt and black pepper, to taste
4 cups cooked chickpeas
⅓ cup packed basil
¼ cup tahini
4 cups baby spinach
8 slices bread
Heat oven to 400F.
Peel away the outer layers of the garlic skin, leaving the skin on individual cloves intact. Cut ¼-1/2 inch off the top of the garlic, exposing the cloves.
In a small dutch oven, pour 1 tbsp olive oil over the garlic and roll it around so that the whole head gets a coating of it. Cover and roast for 45-60 minutes, or until garlic becomes soft and caramelized. Let cool so that you can touch it without burning yourself.
Meanwhile, spread the zucchini slices on a parchment-lined baking sheet. Brush with a tbsp of olive oil and sprinkle with salt and black pepper. Roast for 20-30 minutes, or until caramelized and browned.
To make the hummus, in the bowl of a food processor, combine the chickpeas, basil, tahini, remaining 2 tbsp olive oil, and salt and black pepper to taste. Process until smooth, adding in water as necessary to get a spreadable consistency.
Spread the hummus onto each of the bread slices. Top half of them with the zucchini and the spinach, and then cover with a second slice of bread.
An Eats Well With Others Original
Recipe by
Joanne Eats Well With Others
at https://joanne-eatswellwithothers.com/2014/05/roasted-zucchini-garlic-basil-hummus-sandwiches.html