Sweet Potato Gnocchi with Balsamic-Roasted Asparagus and Caramelized Onions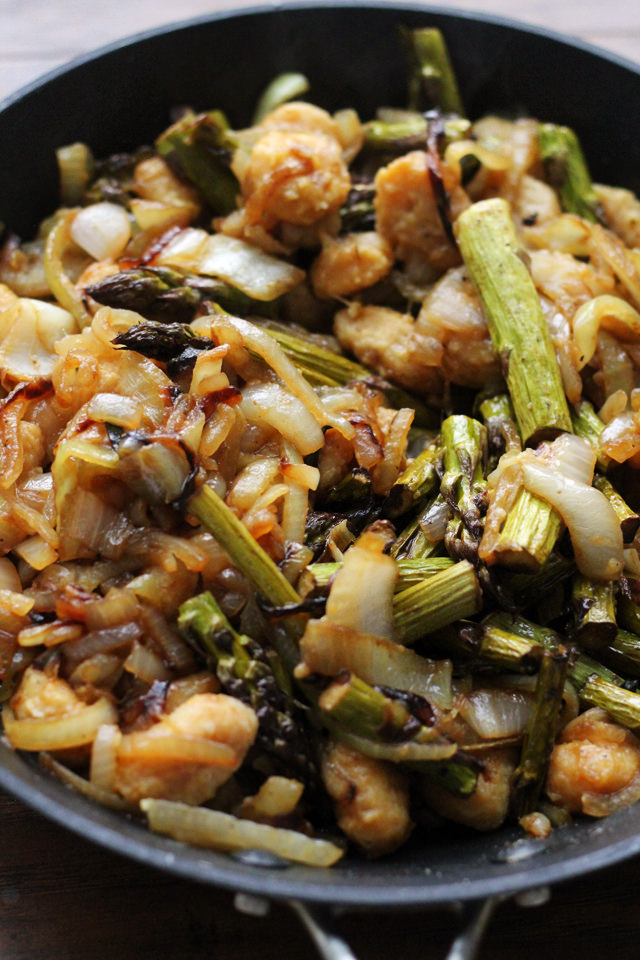 3 tbsp olive oil, divided
2 medium sweet onions, thinly sliced
salt and black pepper, to taste
1 lb asparagus, trimmed and cut into 1-inch slices
1 tbsp balsamic vinegar
8 oz sweet potato gnocchi
Heat 2 tbsp olive oil in a large skillet over medium-low heat. Add in the onions and a pinch of salt. Cook, stirring every 2-3 minutes, until onions are browned and caramelized, about 20-30 minutes.
Meanwhile, heat oven to 400F.
In a large bowl, toss together the asparagus, remaining 1 tbsp olive oil, and balsamic vinegar. Spread out on a parchment-lined baking sheet. Sprinkle with salt and black pepper and roast for 15 minutes, or until starting to brown.
Bring a large pot of salted water to a boil. Cook gnocchi according to package directions. Drain and then toss with the caramelized onions and roasted asparagus. Serve warm.
An Eats Well With Others Original
Serving size:
⅓ of recipe
Recipe by
Joanne Eats Well With Others
at https://joanne-eatswellwithothers.com/2014/05/sweet-potato-gnocchi-balsamic-roasted-asparagus-caramelized-onions.html