Red Velvet Crumb Muffins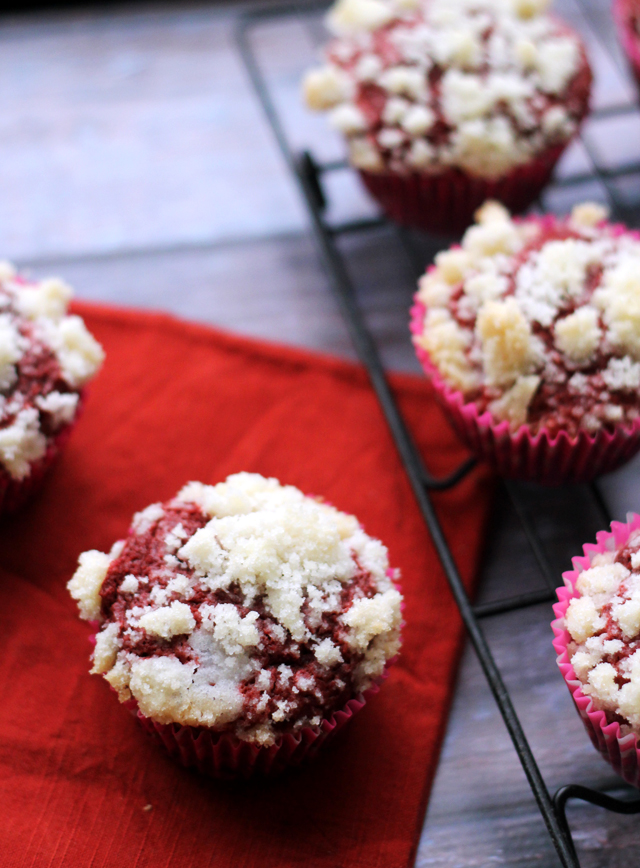 1 cup all purpose flour
1½ cups whole wheat flour
1½ cups granulated sugar, divided
4 teaspoons baking powder
1 teaspoon salt
½ cup unsweetened cocoa powder
⅔ cup buttermilk
1 tablespoon Red Velvet Emulsion or red food coloring
1 cup vegetable oil
2 eggs, slightly beaten
8 oz cream cheese, softened
½ cup all purpose flour
1 cup sugar
¼ cup butter, cubed
Heat oven to 375F. Line two muffin pans with cupcake liners.
In a large bowl, whisk together the flours, 1 cup of sugar, baking powder, salt, and cocoa powder. In a second bowl, whisk together the buttermilk, red food coloring, vegetable oil, and eggs. Fold the wet ingredients into the dry ingredients until moistened.
Beat together the cream cheese and the remaining ½ cup sugar. Fold the cream cheese mixture into the muffin batter, mixing until just combined. Divide the batter evenly among the muffin tins, filling each about ¾ full.
For the crumbs, in a small bowl mix together the flour and sugar. Using your fingers, rub the butter into the flour mixture until it resembles coarse sand. Sprinkle this crumb mixture over the muffins.
Bake until a toothpick inserted comes out clean, about 18-22 minutes.