White Chocolate Buttered Popcorn Cookies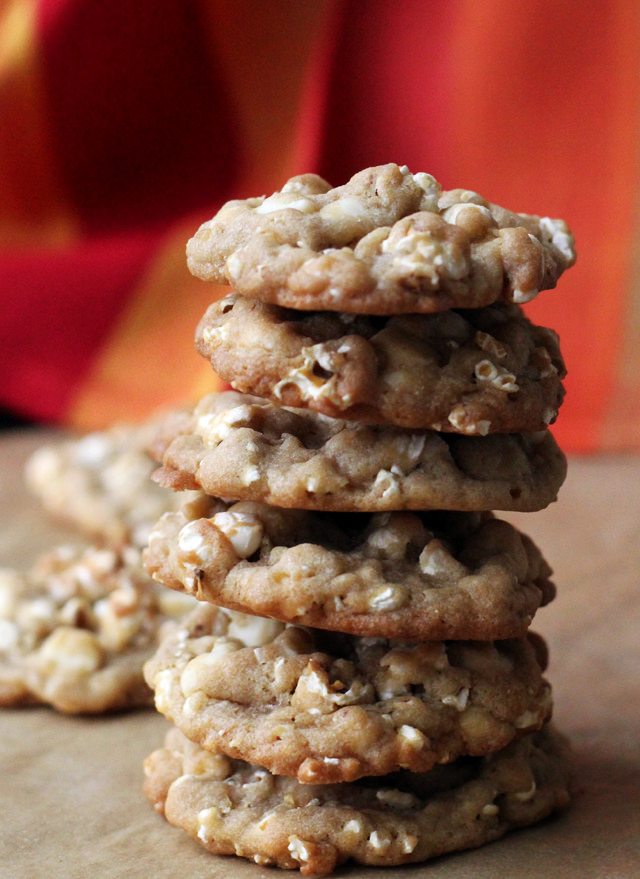 ½ cup butter, softened
½ cup packed light brown sugar
⅓ cup granulated sugar
1 large egg
½ tsp vanilla extract
1½ cups all purpose flour
½ tsp baking soda
12 oz white chocolate chips
4 cups buttered popcorn
Preheat oven to 350F.
In the bowl of a stand mixer fitted with the paddle attachment, cream together the butter and sugars until light and fluffy, about 2-3 minutes on medium speed.
Add in the egg and vanilla and mix until combined, about 2 minutes.
In a large bowl, whisk together the flour and baking soda. Add it to the batter and mix until just combined. Pour the white chocolate and popcorn into the bowl of the mixer and mix until combined.
On a parchment-lined baking sheet, scoop tablespoon-sized mounds 2 inches apart. Bake cookies for 10-12 minutes, until the edges are light brown. Let sit for 5 minutes on the baking sheet and then remove to a wire rack to cool completely. Repeat until all of the batter is used up.
Adapted from
The Smitten Kitchen Cookbook