Red Curry Tofu with Coconut Chile Carrots and Bok Choy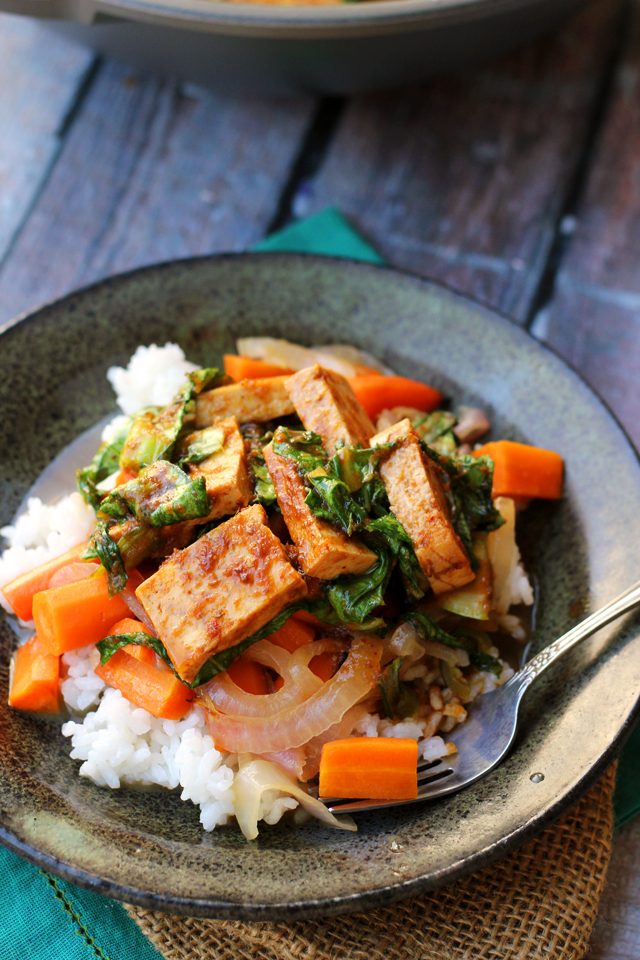 1 tbsp canola oil
2 tbsp brown sugar
1 tbsp fresh lime juice
1 tbsp soy sauce
1 cup coconut milk
1½ lb carrots, peeled and cut into 3-inch lengths
½ red onion, cut into ½-inch slices
1 jalapeno, seeded and minced
¼ cup dark brown sugar
¼ cup soy sauce
2 tbsp Thai red curry paste
1 tbsp minced ginger
1 tbsp canola oil
12 oz super firm sprouted tofu, cut into 1-inch rectangles
1 head bok choy, coarsely chopped
Heat oven to 450F.
For the carrots, in a large bowl, combine the oil, sugar, lime juice, soy sauce, and coconut milk. Toss together with the carrots, onion and chile. Season to taste with salt.
Pour into a large baking pan and roast for 45 minutes, or until carrots are tender, stirring every 15 minutes.
Meanwhile, prepare the tofu. In a small bowl, whisk together the sugar, soy sauce, red curry paste and ginger. Set aside.
In a large wok, heat the oil over medium heat. Add the tofu slices and saute until lightly browned on each side, about 5 minutes per side. Add in the bok choy and saute until wilted, 2-3 minutes.
Stir in the sauce and cook for a few minutes more, allowing the flavors to combine.
Serve the tofu and carrots atop a bed of rice or quinoa.
Serving size:
¼ of recipe