Strawberry, Pistachio, and Goat Cheese Crepes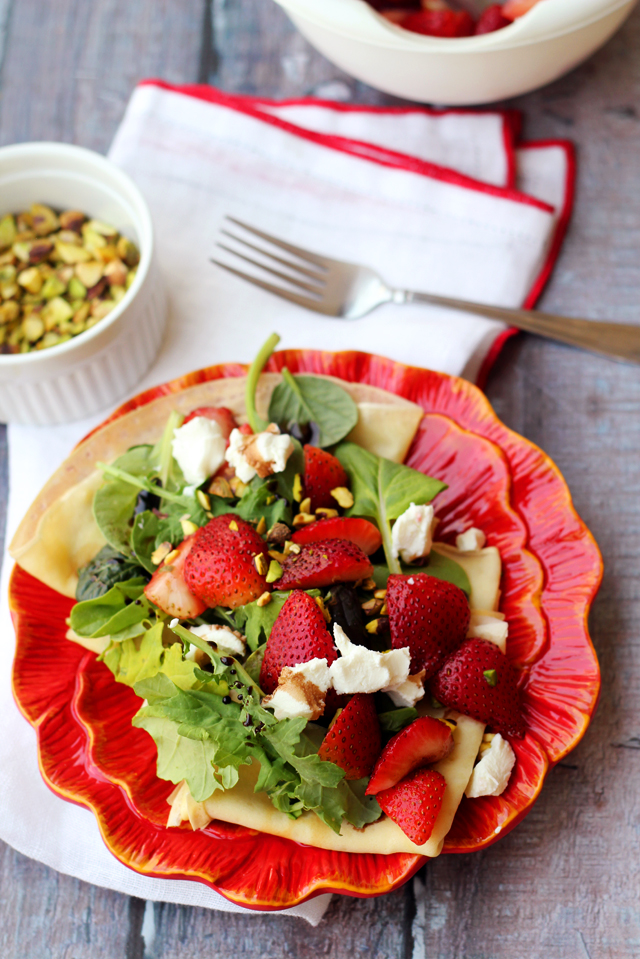 1½ cups flour
pinch of salt
2 cups vanilla almond milk
3 eggs
1 tbsp vanilla
3 tbsp olive oil
1 lb strawberries, hulled and quartered
2 tbsp sugar
5 oz baby greens
¼ cup pistachios, toasted and chopped
4 oz goat cheese, crumbled
4 tbsp mosto cotto or other sweet balsamic vinegar
In a large bowl, whisk together the flour and salt.
In a separate bowl, whisk together the almond milk, eggs, vanilla, and oil. Slowly whisk the liquid mixture into the dry ingredients, mixing until well combined. Let sit for 20 minutes.
In the meantime, toss the strawberries with the sugar. Let sit while you cook the crepes.
Lightly grease a large nonstick pan or a crepe pan and set over medium heat. Add ⅓ cup of batter to the pan and swirl to coat the pan. Cook for 2-3 minutes or until the edges of the crepes start to curl. Flip and cook the other side for 30-45 seconds. Remove from pan and repeat with remaining batter.
Serve crepes topped with the baby greens, strawberries, chopped pistachios, goat cheese and a drizzle of the mosto cotto.
Crepes adapted from
Diethood
, Filling is an Eats Well With Others Original
Recipe by
Joanne Eats Well With Others
at https://joanne-eatswellwithothers.com/2014/06/strawberry-pistachio-goat-cheese-crepes.html