Spicy Thai Peanut Vegetable Curry Noodles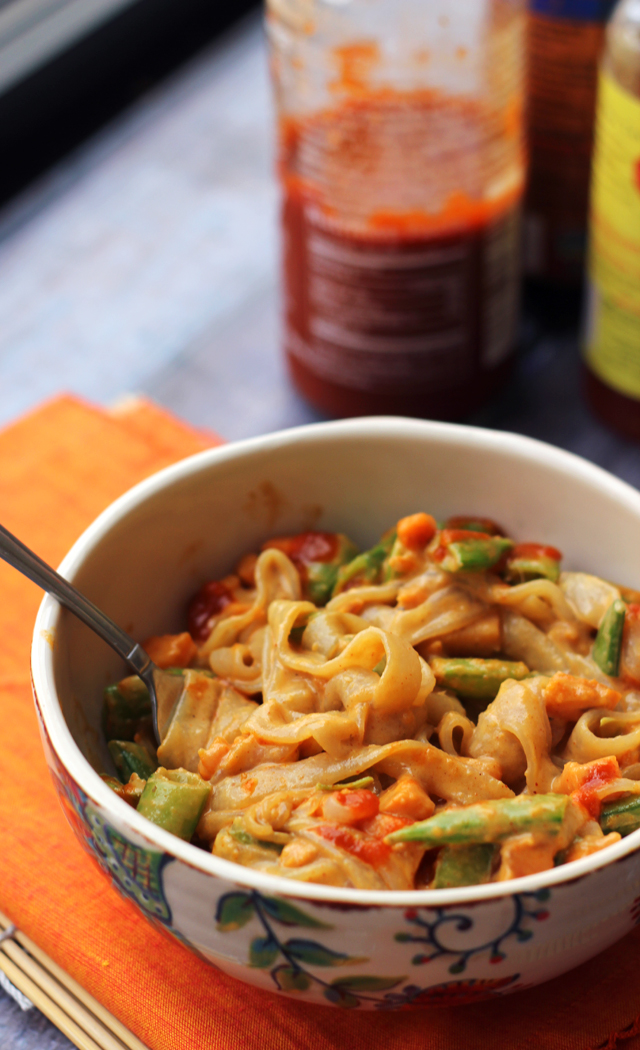 ½ cup coconut milk
½ cup peanut butter
1 tbsp thai red curry paste
2 tbsp hoisin sauce
1 tbsp brown sugar
1 tbsp sriracha, plus more to taste
1 tbsp soy sauce
¼ tsp ginger
2 tbsp sesame oil
12 oz extra firm tofu, cut into ½-inch dice
2 medium sweet potatoes, peeled and cut into ½-inch dice
1 lb sugar snap peas, trimmed and coarsely chopped
1 lb shirataki fettuccine, drained and rinsed
In the bowl of a food processor, combine the coconut milk, peanut butter, red curry paste, hoisin sauce, brown sugar, sriracha, soy sauce, and ginger. Pulse to combine until smooth. Season to taste with more soy sauce and sriracha. Set aside.
Heat the oil in a large pan or wok over medium-high heat. Add the tofu and sweet potatoes to the pan and saute, stirring frequently, until sweet potatoes are tender, about 8-10 minutes. Stir the sugar snap peas into the pan and saute or a minute or two, until bright green. Add in the noodles and saute until heated through.
Stir the sauce into the pan and cook for a few minutes to heat through, stirring frequently. Serve with more hot sauce at the table.
An Eats Well With Others Original
Recipe by
Joanne Eats Well With Others
at https://joanne-eatswellwithothers.com/2014/07/spicy-peanut-vegetable-curry-noodles.html