Kale Salad with Peaches, Corn, and Basil-Honey Vinaigrette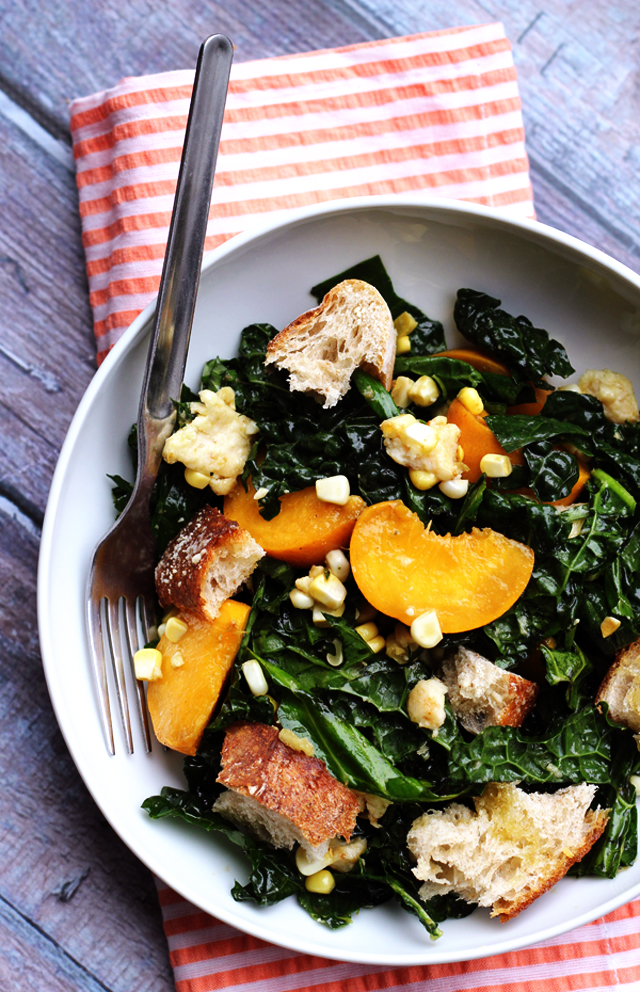 1 large bunch of lacinato kale, stems removed and leaves thinly sliced
1 tbsp olive oil, plus more for drizzling
large pinch of salt
3 peaches, pitted and thinly sliced
3 ears of corn kernels
4 oz honey cheddar goat cheese or other goat cheese
1 loaf ciabatta bread, cubed
4 tbsp parmesan cheese
1 tbsp olive oil
1 tbsp balsamic vinegar
1 tsp whole grain mustard
1 tsp honey
4 basil leaves, minced
salt and black pepper, to taste
Heat oven to 400F.
In a large bowl, toss the kale with a tablespoon of olive oil and salt. Massage until kale volume reduces by half and kale turns a dark green.
Toss the kale with the peaches, corn kernels, and cheese.
Arrange the bread cubes on a parchment lined baking sheet. Drizzle with olive oil and sprinkle with parmesan cheese. Roast for 10 minutes.
Meanwhile, whisk together the olive oil, balsamic vinegar, mustard, honey, and basil. Season to taste with salt and pepper. Toss with the salad.
Serve the salad topped with the parmesan croutons.
Adapted from
Let Them Eat Kale!: Simple and Delicious Recipes for Everyone's Favorite Superfood
Recipe by
Joanne Eats Well With Others
at https://joanne-eatswellwithothers.com/2014/07/kale-salad-peaches-corn-basil-honey-vinaigrette.html