Fried Green Tomatoes over Basil-Goat Cheese Grits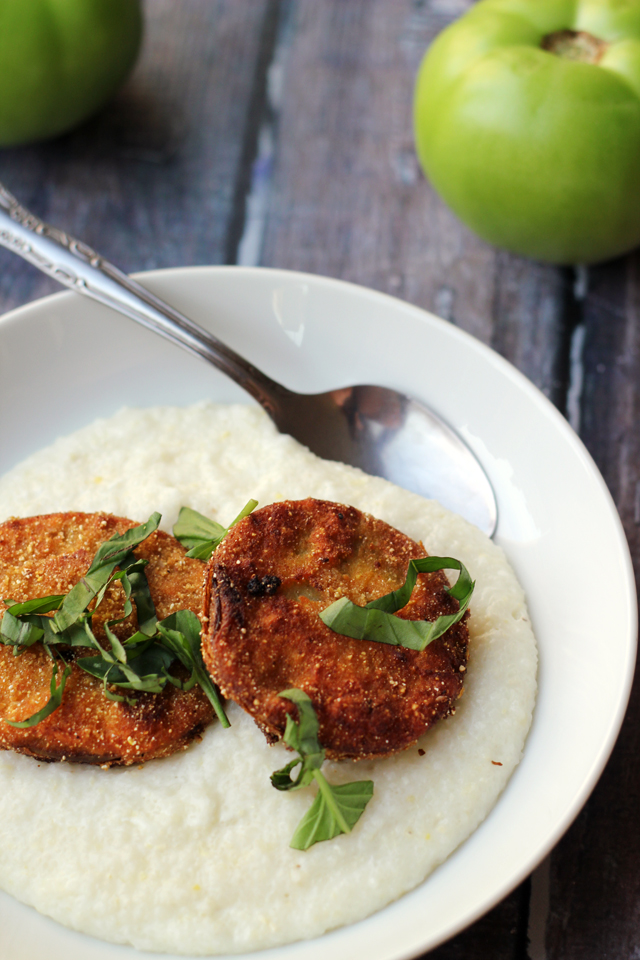 2 large green tomatoes or 4 smaller green tomatoes
1 cup white cornmeal
½ cup all purpose flour
1 tsp smoked paprika
1½ tsp salt
½ tsp black pepper
1 egg
⅓ cup milk
1 cup vegetable oil
3 cups water
1 tsp sea salt
1¼ cups quick-cooking grits
1 tbsp unsalted butter
2 tbsp milk
4 oz goat cheese
2 tbsp chopped basil, for garnish
For the tomatoes, core the tomatoes and then slice off each end so that they are flat on top and bottom. Cut the tomatoes into 4 round slices each and set aside.
In a small bowl, whisk together the cornmeal, flour, paprika, salt, and black pepper. In a separate bowl, whisk together the egg and the milk. Dredge each tomato slice in the flour mixture, then dip it into the egg wash and then dredge in the flour again.
In a heavy saute pan, heat the oil until bubbling. Place the battered tomatoes in the pan and cook for about 1-2 minutes per side, or until golden brown. Drain on a paper towel. Serve atop the grits.
For the grits, in a large pot, bring the water and salt to a boil. Whisk in the grits and butter and then allow to return to a boil. Add in the milk. Lower the heat and simmer for 5 minutes, or until creamy. Remove from the heat and whisk in the goat cheese until thoroughly combined. Serve garnished with the basil and the fried green tomatoes.
Adapted from
Tupelo Honey Cafe: Spirited Recipes from Asheville's New South Kitchen
Serving size:
¼ of recipe