Calabrese Romano Bean and Potato Ragu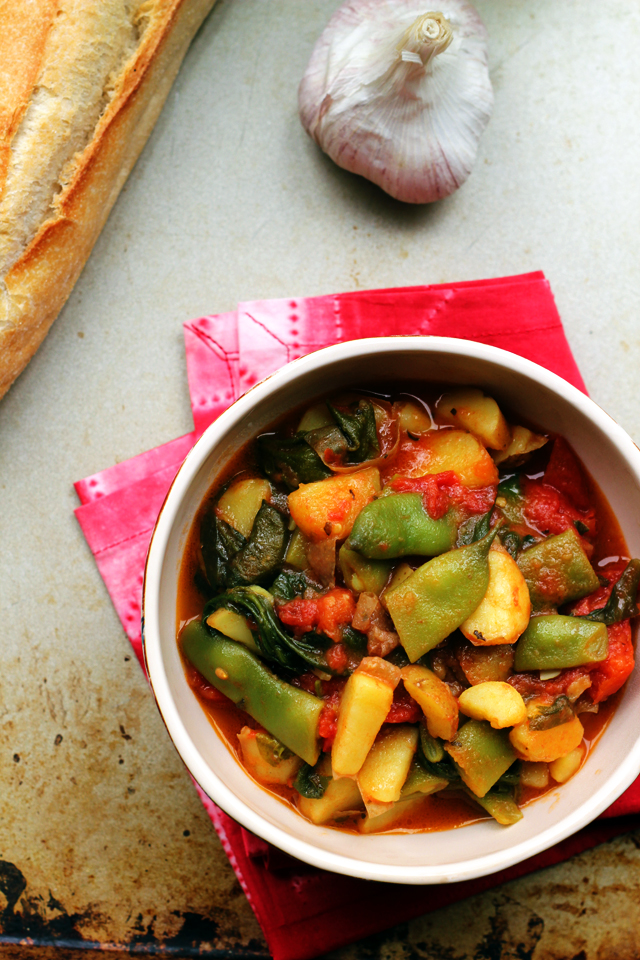 1 lb romano beans or string beans
24 oz fingerling potatoes
½ cup Arbequina extra virgin olive oil, divided
2 garlic cloves, thinly sliced
sea salt and freshly ground black pepper, to taste
1 cup water
1 tsp red pepper flakes
1 tsp dried oregano
1 lb spinach, washed and dried
28 oz canned whole tomatoes
Cut each bean into three pieces, crosswise. Set aside. Cut the potatoes in half lengthwise and then cut crosswise into ¼-inch slices.
Put the potatoes in a large pot and cover with cold water. Bring to a boil and then simmer for one minute. Drain.
In a large pot, heat ¼ cup olive oil over medium heat. Add in the potatoes and saute until tender and starting to brown, about 10 minutes. Stir in the garlic and salt, to taste. Cook for a minute, then remove the potato mixture to a bowl and set aside.
In the same pot, heat the remaining olive oil along with the water. Stir in the romano beans, red pepper flakes, and oregano. Cook until the beans are tender, about 10 minutes. Stir in the spinach and cook until wilted.
Pour potatoes and the juice from the tomatoes into the pot, and then crush the whole tomatoes with your hand as you add them to the pot. Cook until tomatoes start to break down and mixture starts to thicken, about 10 minutes. Season to taste with salt and pepper, and then serve warm.
Adapted from
Bottega: Bold Italian Flavors from the Heart of California's Wine Country