S'mores Ice Cream Sundaes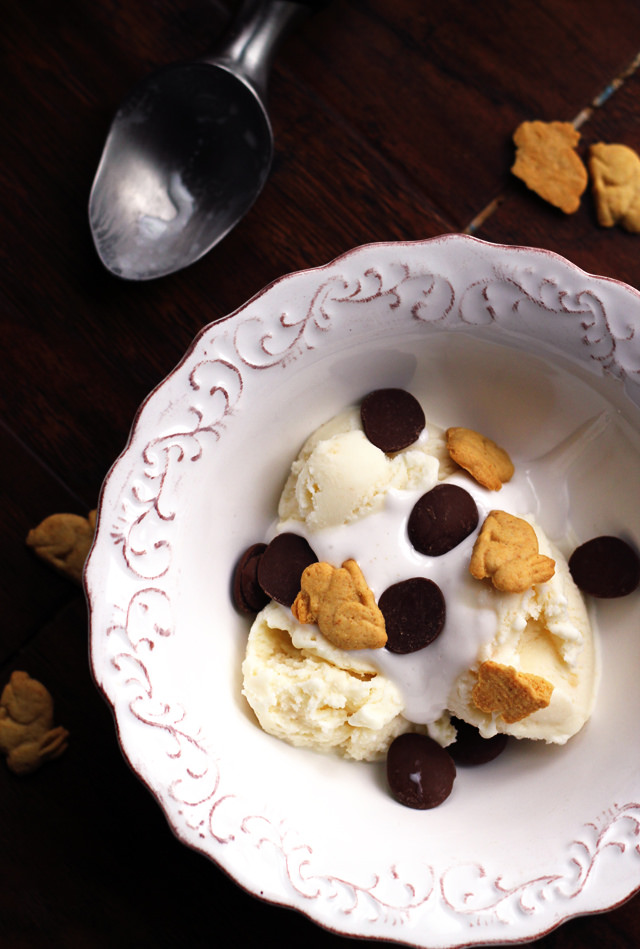 2½ cups whole milk
1 tbsp plus 2 tsp cornstarch
2 oz cream cheese, softened
⅛ tsp fine sea salt
1½ cups heavy cream
¾ cup sugar
⅓ cup light corn syrup
½ cup chopped graham crackers
1 tsp kosher or vegetarian gelatin
½ cup cold water
1½ cups sugar
1 cup light corn syrup
pinch of kosher salt
1 tsp vanilla extract
chocolate chips
For the graham cracker ice cream, mix 2 tbsp of the milk with the cornstarch in a small bowl. Set aside. In a separate, large bowl, whisk the cream cheese with the sea salt.
In a 4 quart pot or saucepan, heat the rest of the whole milk, heavy cream, sugar, and corn syrup over medium-high heat. Bring to a boil and then let boil for 4 minutes. Remove from the heat and then whisk in the cornstarch mixture. Return to the stove and bring back to a boil. Cook, stirring constantly, until thickened, about a minute.
Remove from the heat and gradually whisk the custard into the cream cheese. Stir the graham crackers into the hot milk mixture and let sit for 3 minutes, or until the graham crackers start to fall apart. Pour through a fine meshed sieve and then into a 1 gallon ziploc bag. Submerge into a bowl filled with ice water. Place the entire ice bath in the freezer and let stand until cold, about 30 minutes.
Pour the cold custard into the frozen base of an ice cream machine. Churn until thick and creamy, according to the machine's instructions. Put the ice cream into a storage container and store in the coldest part of the freezer, until firm.
Meanwhile, make the marshmallow sauce. Stir together the gelatin with the cold water in the bowl of a stand mixer fitted with the whisk attachment.
Bring the sugar, corn syrup, and salt to a boil in a saucepan over medium heat and cook without stirring until a candy thermometer reads 240F. Pour the syrup over the gelatin mixture and add the vanilla. Beat on low speed for 2 minutes. Increase to speed to high and then beat until the syrup becomes thick and white. Transfer to a glass jar with a lid and store for up to one month in the refrigerator.
Serve chilled ice cream topped with marshmallow sauce and chocolate chips.
Ice cream from
Jeni's Splendid Ice Cream Desserts
and marshmallow sauce from
Saveur