Chickpea Fajitas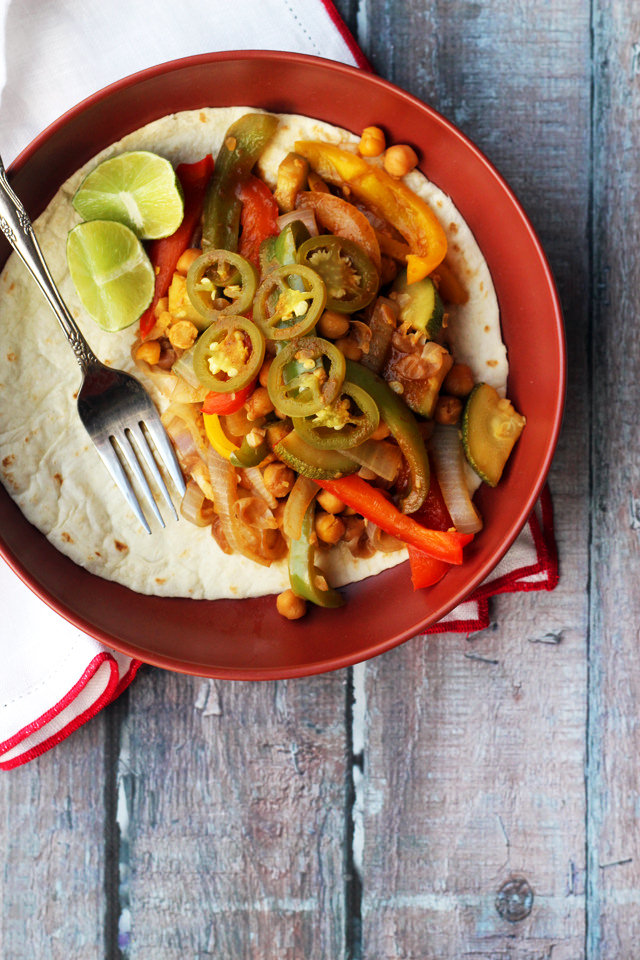 ¾ cup dark beer or stout
2 tbsp soy sauce
2 tbsp fresh lime juice
1 tbsp olive oil
1 tbsp hot sauce
3 garlic cloves, minced
3 cups cooked chickpeas
1 onion, thinly sliced
3 bell peppers, seeded and sliced
1 zucchini, quartered and sliced
salt and black pepper, to taste
8 (6-inch) flour tortillas
pickled jalapenos and hot sauce, for serving
In a large bowl, combine the beer, soy sauce, lime juice, oil, hot sauce, and garlic. Pour into a large ziploc bag, along with the chickpeas, onion, bell peppers, and zucchini. Seal firmly and marinate in the fridge for at least an hour.
Heat a large wok or nonstick skillet over medium-high heat. Pour the entire contents of the bag, including the marinade, into the pan. Cook for 10-12 minutes, or until veggies are heated through and tender.
Toast the tortillas in a large skillet. Serve tortillas with the fajita filling, as well as pickled jalapenos and hot sauce to garnish.
Serving size:
¼ of recipe