Apricot Frangipane Galette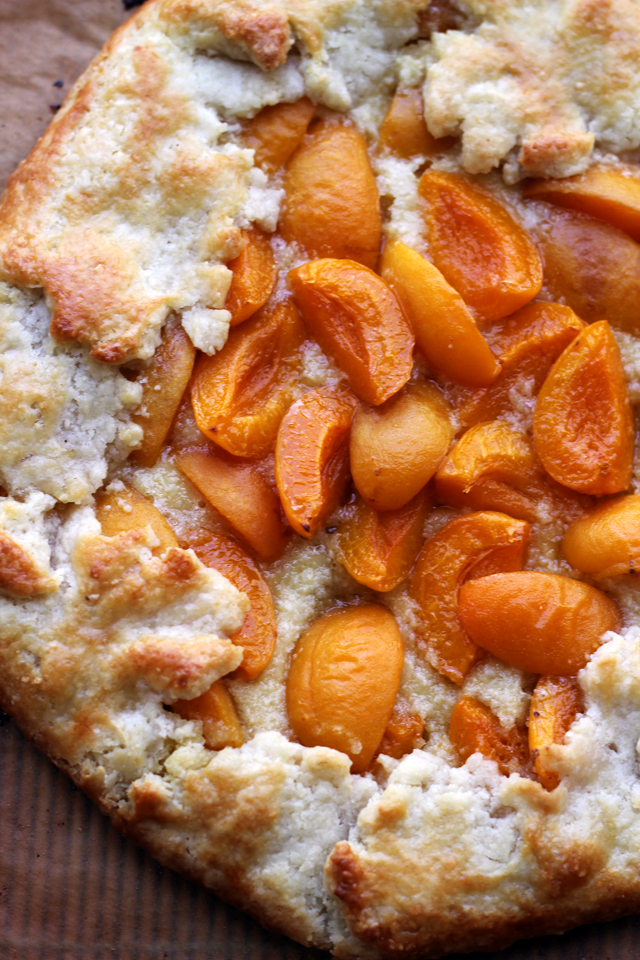 1 cup plus 1 tbsp all purpose flour
¼ cup almond meal
¼ tsp kosher salt
1 tbsp sugar
9 tbsp cold butter, cut into tablespoons
¾ tsp almond extract
2 tbsp ice water
½ cup almond meal
¼ cup sugar
4 tbsp butter, room temperature
1 egg, separated
½ tsp almond extract
pinch of kosher salt
10 oz apricots, pitted and quartered
1 tbsp sugar
½ tsp lemon juice
First make the crust. In the bowl of a stand mixer fitted with the paddle attachment, mix together the flour, almond meal, salt, sugar and cold butter on low speed until it starts to get clumpy, about a minute. Add in the almond extract and ice water. Mix until the dough comes together, about 1-2 minutes. Transfer to a sheet of plastic wrap and flatten into a disc. Wrap tightly and refrigerate for at least 1 hour.
Meanwhile, make the filling. For the frangipane, using the same mixing bowl, beat together the almond meal, sugar, butter, egg yolk, almond extract and salt until smooth, about 1 minute. Refrigerate until ready to make the galette.
Line a baking sheet with parchment paper. Toss the apricots with the sugar and lemon juice.
On a floured surface, roll out the dough to an 11-inch circle. Transfer to the baking sheet and spread the frangipane over it, leaving a 1-inch border. Scatter the apricots over the frangipane, along with any juices.
Fold the pastry overhang into the center, pleating as you go, leaving a circle of fruit exposed in the center. Freeze for 20 minutes.
Heat oven to 450F. Whisk the reserved egg white until foamy. Brush it on the pastry.
Bake the galette for 25-30 minutes or until the pastry is golden brown and the frangipane is set. Allow to cool to room temperature before serving.
Barely adapted from
Ripe: A Fresh, Colorful Approach to Fruits and Vegetables