Nutella Cheesecake Swirl Bars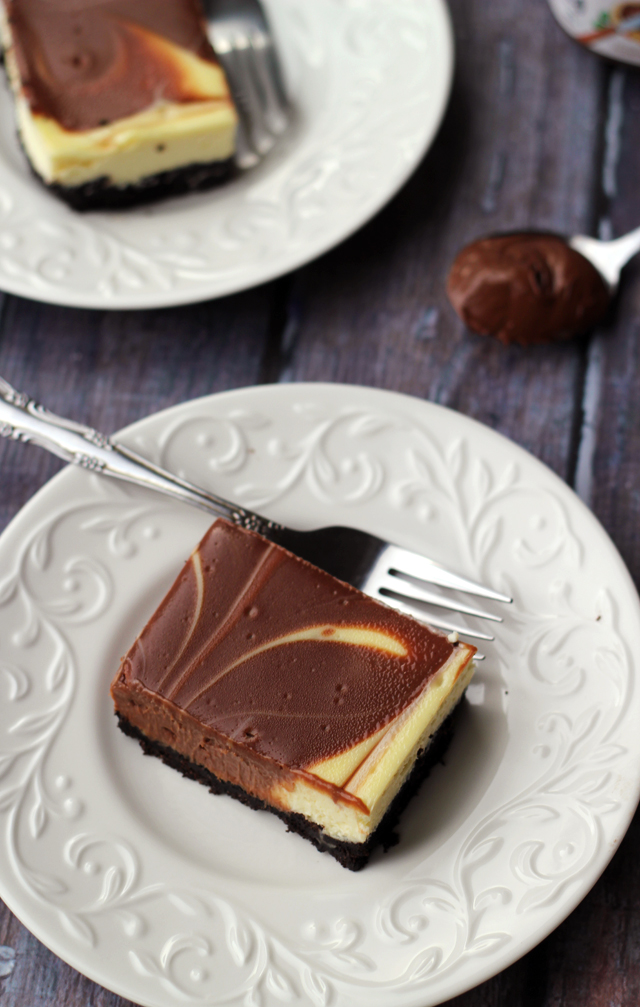 24 Oreos or chocolate wafer cookies
¼ cup unsalted butter, melted
16 oz lowfat cream cheese, room temperature
2 large eggs
½ cup sugar
¼ cup + 1 tbsp heavy cream, divided
⅓ cup Nutella
Heat oven to 325. Grease an 8x8-inch baking pan and then line with parchment paper. Set aside.
In the bowl of a food processor, pulse the Oreos until they are finely ground. Add the melted butter and pulse until they are evenly moistened. Pour the Oreo crumbs into the prepared baking pan and pat down to form an even layer. Bake for 12 minutes or until set. Let cool slightly.
Meanwhile, clean out the food processor and add the cream cheese, eggs, sugar, and ¼ cup of heavy cream to it. Pulse until pureed and smooth, scraping down the sides as necessary. Pour ⅔ of the filling into the prepared crust. To the remaining ⅓ of the filling, add the nutella and 1 tbsp of heavy cream. Pulse until combined and smooth. Pour over the cheesecake filling and spread into as smooth of a layer as possible. To create the swirled effect, drag a knife or a spoon through it in zigzags.
Bake for 30-35 minutes or until set around the edges but still a bit wobbly in the center. Let cool and then refrigerate overnight before serving.