Peach Watermelon Gazpacho with Feta Crema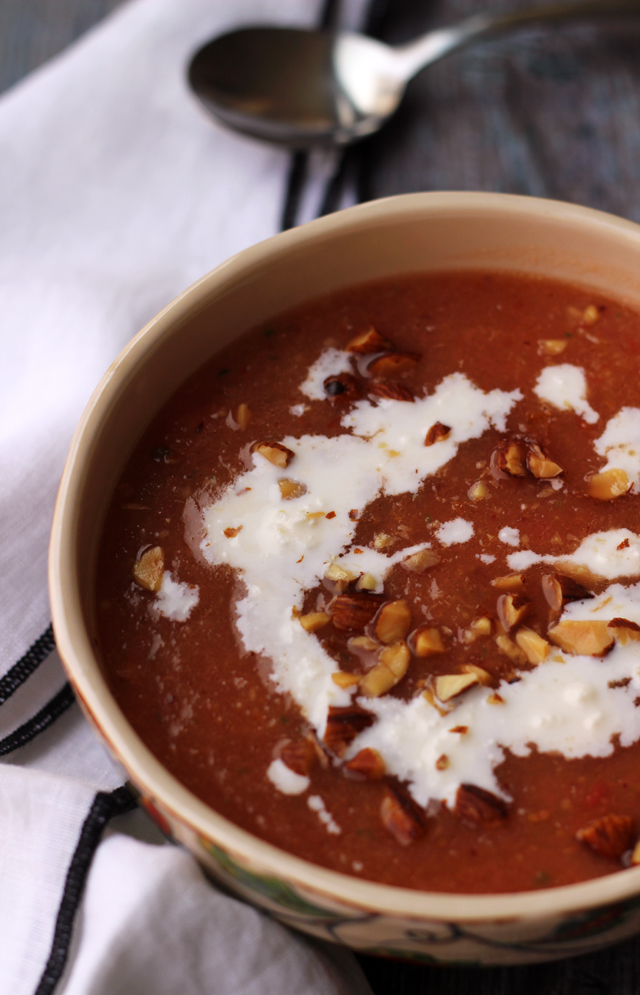 3 peaches, pitted
1½ lb seedless watermelon, rinds removed
1 beefsteak tomato, coarsely chopped
1 cucumber, peeled and coarsely chopped
1 jalapeno, seeded and halved
2 tbsp olive oil
2 tbsp sherry vinegar
salt and black pepper, to taste
2 oz feta cheese, crumbled
3 tbsp Greek yogurt
¼ cup whole milk
¼ cup roasted salted almonds, chopped
In the bowl of a food processor or blender, combine the peaches, watermelon, tomato, cucumber, and jalapeno. Pulse until smooth. Add in the olive oil and sherry vinegar. Pulse until combined.
Season to taste with salt and black pepper. Chill until ready to serve.
In a small bowl, mash together the feta and Greek yogurt. Whisk in the milk.
Serve the soup topped with a drizzle of the feta crema and a sprinkling of the toasted almonds.