Drunken Noodles with Tofu and Peppers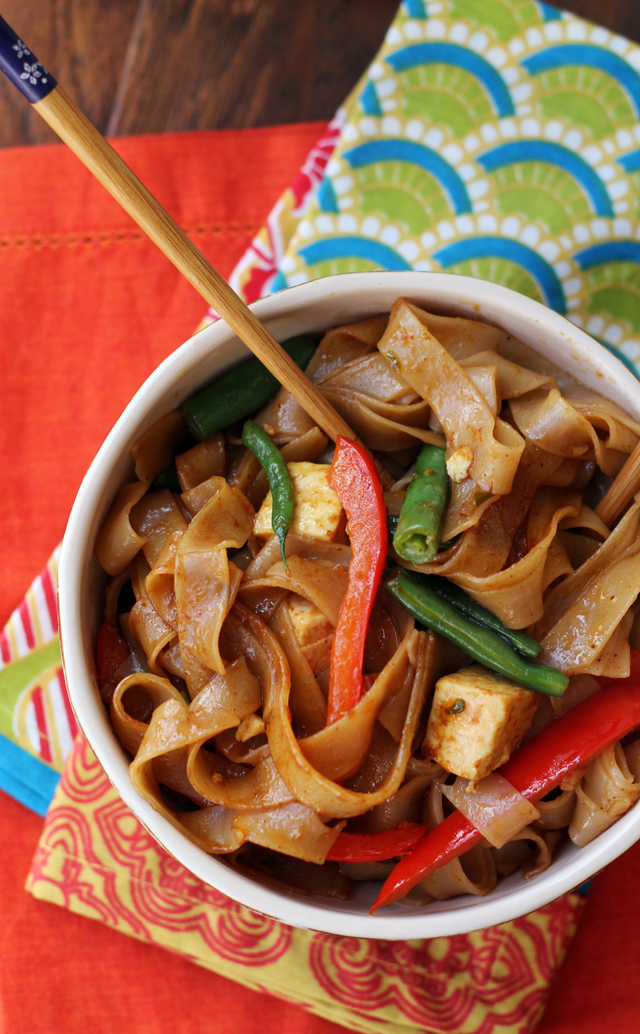 ¼ cup canola oil
12 oz extra firm tofu, patted dry and cut into ½-inch cubes
1 red bell pepper, seeded and thinly sliced
1 thai chili pepper, seeded and minced
2 cloves garlic, minced
1 lb string beans, trimmed and cut into 1-inch lengths
3 tbsp soy sauce
3 tbsp hoisin sauce
1½ tsp gochujang
1 tbsp sesame oil
1 lb wide rice noodles
Bring a large pot of water to a boil.
Meanwhile, heat the canola oil in a large wok. Add the tofu to the pan and fry, turning a few times, until browned on all sides.
Add the red bell pepper, chili pepper. garlic, and string beans to the pan. Saute for 4-5 minutes, or until crisp tender.
Meanwhile, in a separate bowl, stir together the soy sauce, hoisin sauce, gochujang, and sesame oil. Add to the wok and stir until all the veggies are covered in it.
Cook the rice noodles according to package directions. Drain and add to the wok. Saute for a few minutes and then serve with extra gochujang and soy sauce for seasoning.
An Eats Well With Others Original
Recipe by
Joanne Eats Well With Others
at https://joanne-eatswellwithothers.com/2014/08/drunken-noodles-tofu-peppers.html