Miso Tofu Noodle Soup with Corn, Kale, and Snap Peas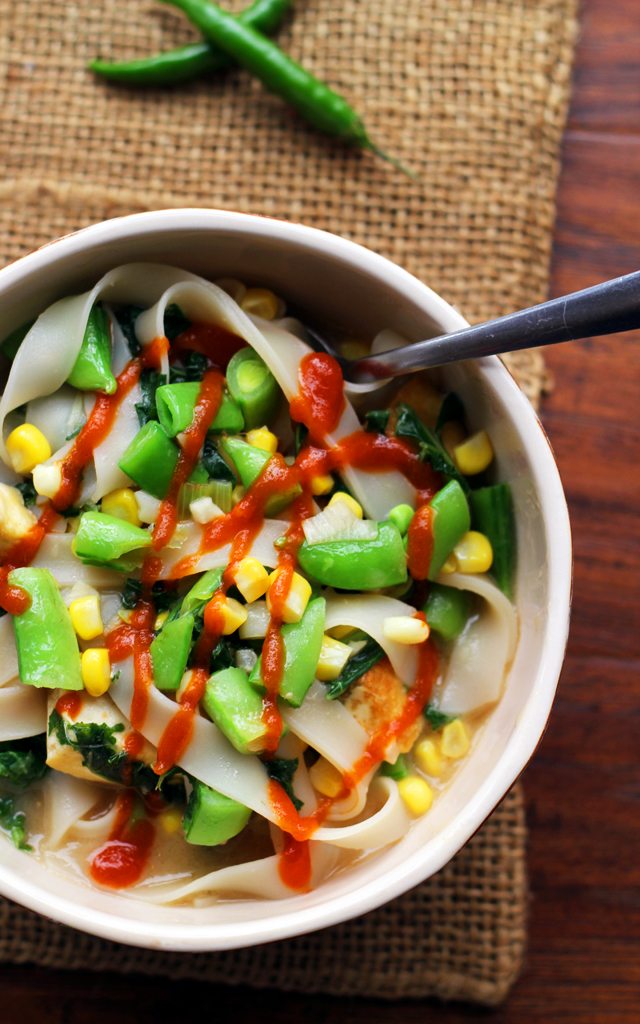 ¼ cup + 2 tbsp canola oil, divided
1 lb extra firm tofu, drained, patted dry and cut into ½-inch cubes
3 scallions, sliced, white parts only
2 tbsp minced ginger
3 cloves garlic, minced
8 cups vegetable broth
3 tbsp soy sauce
4 tbsp white miso
¾ lb wide rice noodles
1 lb sugar snap peas, trimmed and halved
2 ears of corn kernels
5 oz kale, chopped
Heat ¼ cup oil in a large nonstick skillet over medium-high heat. Add the tofu to the pan and sprinkle with salt. Cook, turning occasionally, until golden brown on most sides, about 10-12 minutes. Remove from the pan to a paper towel-lined plate and set aside.
Next, heat the remaining oil in a large pot over medium heat. Add the scallions, ginger and garlic to the pan. Cook, stirring constantly, for 1-2 minutes, or until fragrant. Add in the broth, soy sauce, and miso. Bring to a boil.
Add the noodles to the pot and allow to cook. Once noodles are a minute or so away from being done, add in the sugar snap peas, corn, and kale. Stir to combine and cook until noodles are tender. Stir in the tofu.
Divide the soup among serving bowls. Serve with sriracha, for drizzling.
An Eats Well With Others Original
Recipe by
Joanne Eats Well With Others
at https://joanne-eatswellwithothers.com/2014/09/miso-tofu-noodle-soup-corn-kale-snap-peas.html