Blue Bottle Double Chocolate Cookies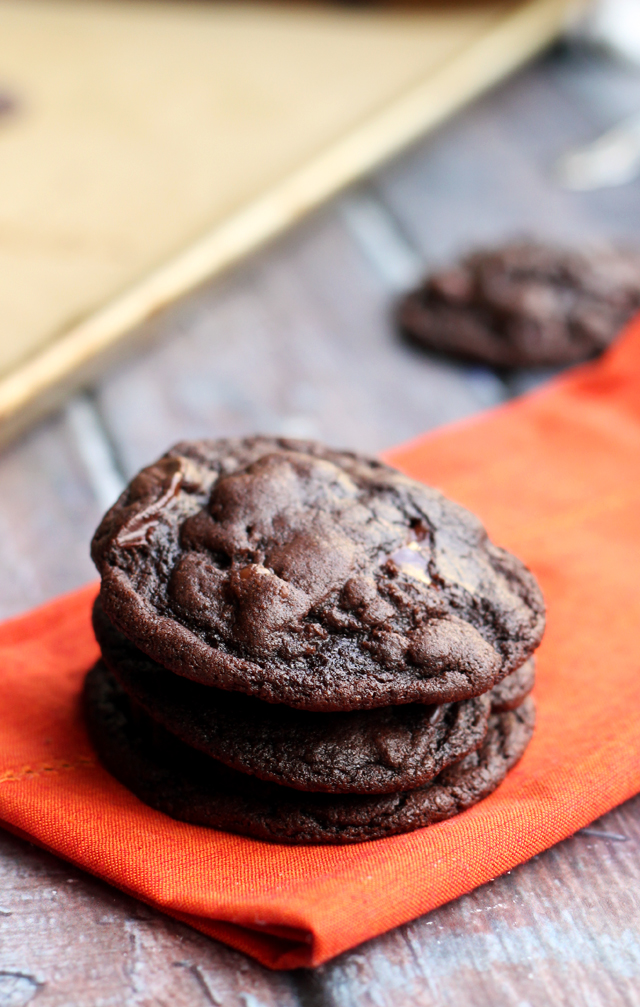 1 cup all purpose flour
⅓ cup natural cocoa powder
½ tsp baking soda
5 tbsp unsalted butter, room temperature
1 cup sugar
1 tsp good quality coarse salt
1 egg, room temperature
1 tbsp vanilla extract
3.5 oz dark chocolate, coarsely chopped
In a medium bowl, whisk together the flour, cocoa powder, and baking soda. Set aside.
In the bowl of a stand mixer fitted with the paddle attachment, cream together the butter, sugar, and salt on medium speed until fluffy, about 5-6 minutes.
Add the egg and vanilla to the bowl, beating on medium speed, until well-incorporated, about 30 seconds. Scrape down the sides of the bowl and then mix again for another 30 seconds.
Scrape down the bowl and then add the flour mixture. Mix on low until combined and uniform in texture. Scrape down the bowl and add the chocolate. Mix on low until just combined. Refrigerate the dough for at least 3 hours or overnight.
When you are ready to bake the cookies, heat the oven to 350F.
Divide the dough into 9¼ cup portions and place on a parchment-lined baking sheet (or two) at least two inches apart.
Bake for 11-12 minutes, rotating the pan halfway through. Let cool for 10 minutes before moving to a wire rack to cool completely.