Dulce de Leche Snickerdoodle Bars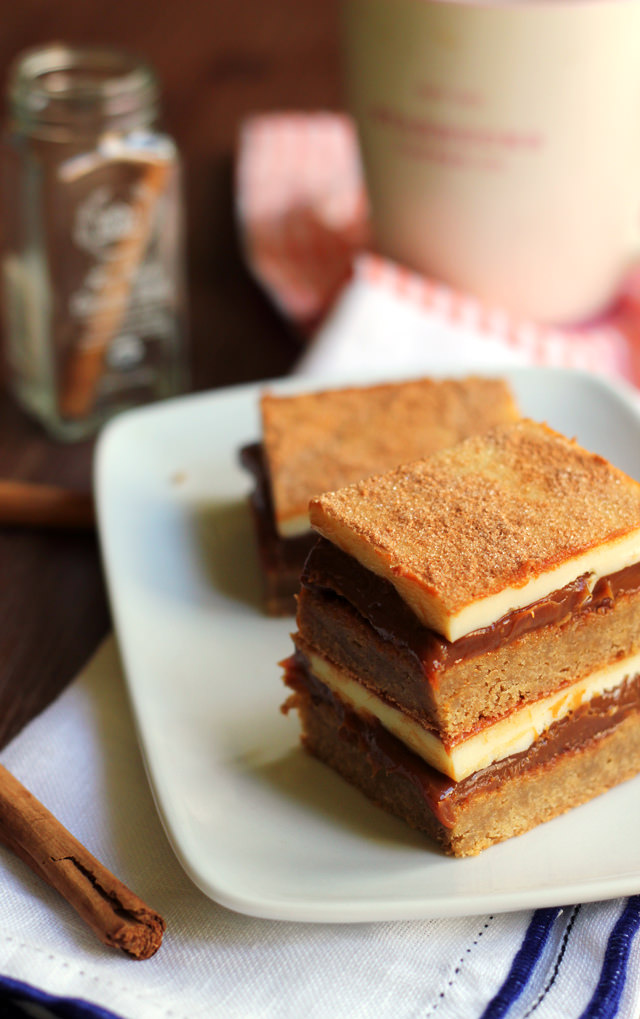 1 cup butter, softened
2 cups dark brown sugar
2 large eggs
2 tsp vanilla extract
2½ cups all purpose flour
2 tsp baking powder
1 tsp salt
¼ cup sugar
3 tsp cinnamon
2 (13.4 oz) cans dulce de leche
12 oz white chocolate chips
⅓ cup heavy cream
1 tbsp light corn syrup
Heat oven to 350F. Line a 9x13-inch baking pan with aluminum foil. Set aside.
In the bowl of a stand mixer fitted with the paddle attachment, cream together the butter and brown sugar on medium-high speed until fluffy, about 3-4 minutes. Mix in the eggs and vanilla extract until thoroughly combined, about 30 seconds. Scrape down the sides of the bowl.
In a separate bowl, whisk together the flour, baking powder, and salt. Add to the stand mixer bowl, and mix into the wet ingredients until just combined. Spread evenly into the prepared baking pan. In a small bowl, whisk together ¼ cup sugar and the cinnamon. Sprinkle 2 tsp of the cinnamon sugar mixture on the cookie base.
Bake for 30 minutes, or until the edges are a golden brown. Remove from the oven and let cool completely.
When the base is cool, spoon the dulce de leche into a microwave-safe bowl and microwave until spreadable, about 20-30 seconds. Spread over the cookie layer in the pan.
In a medium heavy-bottomed pan, heat the white chocolate chip, heavy cream, and corn syrup over medium low heat until melted together, stirring constantly. Spread evenly over the dulce de leche. Sprinkle with the remaining cinnamon sugar. Refrigerate at least 1 hour, until firm.