Brown Butter Pumpkin Cupcakes with Caramel Cream Cheese Frosting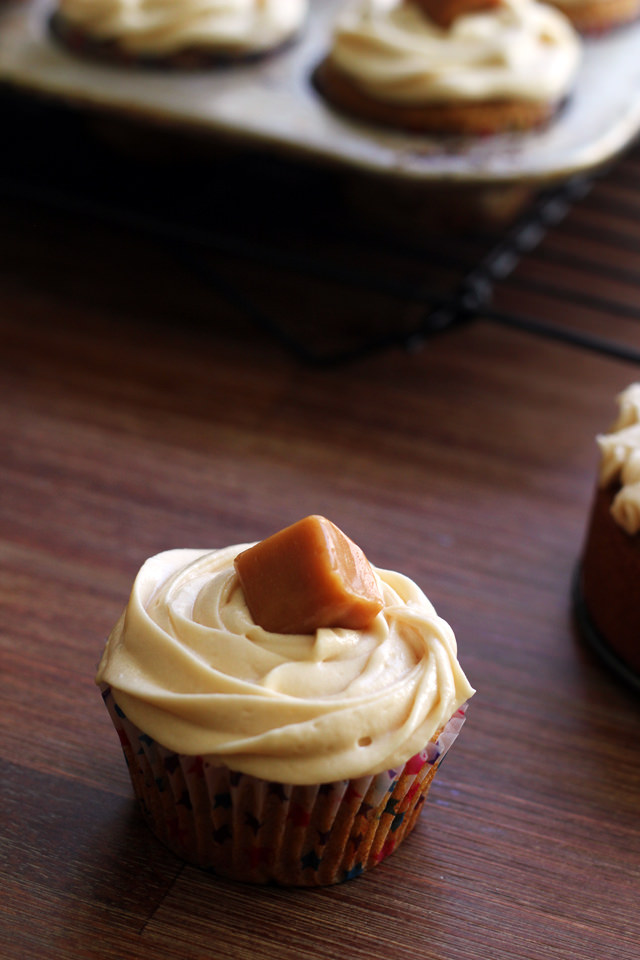 ¾ cup unsalted butter
1⅔ cup all purpose flour
2 tsp baking powder
1 tsp salt
½ tsp ground cinnamon
¼ tsp ground nutmeg
⅛ tsp ground cloves
1 cup pumpkin puree
1 cup brown sugar
½ cup sugar
2 large eggs, room temperature
1 lb confectioner's sugar, divided
½ cup heavy cream
1 tsp vanilla extract
¼ tsp salt
1 (8 oz) package reduced fat cream cheese, room temperature
¼ cup unsalted butter, room temperature
Heat oven to 325. Line cupcake pan with paper liners.
Put the butter in a medium saucepan over medium-low heat. Allow it to melt and simmer until it turns brown and nutty. Remove pan from the heat and pour the butter into a heatproof bowl to stop the cooking. Set aside to cool.
In a medium bowl, whisk together the flour, baking powder, salt, cinnamon, nutmeg, and cloves. In a separate large bowl, whisk together the pumpkin, brown sugar, sugar, eggs, and butter. Fold the dry ingredients into the wet ingredients and whisk until just combined.
Divide the batter among the paper liners so that they are about ⅔ full. Bake for 20-25 minutes or until a toothpick inserted in the center comes out clean. Transfer to wire racks. Allow to cool for a few minutes and then remove to wire racks to cool completely.
To make the frosting, sprinkle ½ cup confectioner's sugar to a small nonstick skillet. Set over medium heat and allow to melt, cooking until it turns an amber color. Remove from the heat and stir in the cream, vanilla extract, and salt. Return to the heat and stir until any hardened bits of caramel melt. Set aside to cool.
In the bowl of a stand mixer fitted with the paddle attachment, cream together the butter and cream cheese on medium speed, until light and fluffy, about 3-4 minutes. Gradually mix in the remaining confectioner's sugar, until totally combined. Mix in the cooled caramel on medium speed until light and fluffy. Chill for an hour.
Pipe the frosting onto the cupcakes before serving.