Scotcheroo Spiders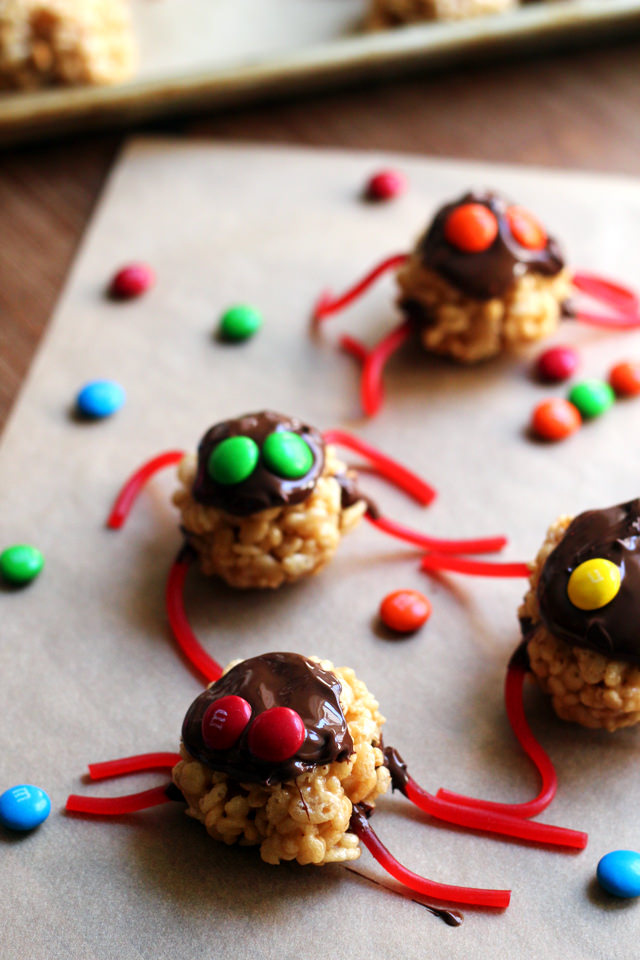 1 cup Karo® Light Corn Syrup
1 cup sugar
1 cup crunchy peanut butter
6 cups crispy rice cereal
2 cups semi-sweet chocolate chips
string licorice
small candy-coated chocolates for eyes
In a large pan, combine the Karo® corn syrup and the sugar over medium heat. Stirring constantly, heat until the sugar is dissolved. Remove from the heat and stir in the peanut butter until thoroughly combined. Stir in the cereal and mix until combined. Let cool for 5 minutes.
Coat hands with cooking spray or vegetable oil. Roll the mixture into 1-inch balls and place on parchment paper. Let cool for 30 minutes.
In a microwave-safe bowl, heat the chocolate chips in 30 second increments, stirring after each one, until thoroughly melted and smooth.
Use a wooden skewer to make holes for legs on each side of the ball. Cut the licorice into 1½-inch lengths. Dip one end in the chocolate and then stick it into one of the holes.
Frost the top of each spider with the melted chocolate chips. Top with candies for eyes. Cool until chocolate is set, about 1½ hours.