Roasted Red Pepper Soup with Corn and Feta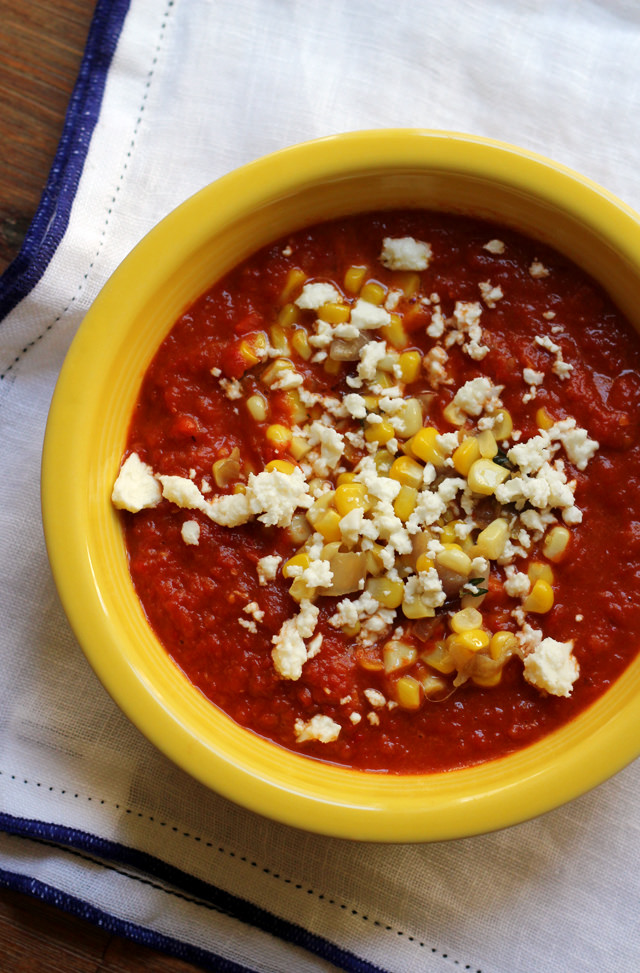 5 large red bell peppers, halved, cored and seeded
4 large heirloom tomatoes, cored and quartered
4 large shallots, divided, 3 halved and 1 minced
8 large garlic cloves
extra virgin olive oil, for drizzling
kosher salt and freshly ground black pepper
¼ tsp smoked paprika
2½ cups vegetable broth
3 ears sweet corn, husked and kernels cut off the cob
1 tsp fresh thyme leaves
1 tbsp unsalted butter
¼ cup crumbled feta cheese
Heat oven to 425F.
In a large bowl, toss together the peppers, tomatoes, 3 halved shallots, and garlic cloves. Drizzle with the olive oil and season generously with salt and black pepper. Arrange skin side up on a large, rimmed baking sheet.
Roast for 45-60 minutes, or until everything is charred and the skins are wrinkly. Remove from the oven and let cool slightly. Peel the skins from the peppers and tomatoes and discard. Pour the roasted veggies into a large pot. Stir in the smoked paprika and veggie broth. Bring to a boil and then lower the heat, simmering uncovered for 15 minutes. Puree in a blender or in the pot with an immersion blender.
Season to taste with salt and black pepper.
Meanwhile, heat a medium pan over medium heat. Add a tablespoon of olive oil and the minced shallot to the pan. Cook until shallot becomes tender and translucent, about 2-3 minutes. Add in the corn kernels, as well as some salt and black pepper, and the thyme. Cook for 2 minutes and then stir in the butter until melted. Remove from the heat.
Divide the soup among 4 bowls and then sprinkle with the corn mixture and crumbled feta cheese.
Adapted slightly from
The Food52 Cookbook, Volume 2: Seasonal Recipes from Our Kitchens to Yours