S'mores Cheesecake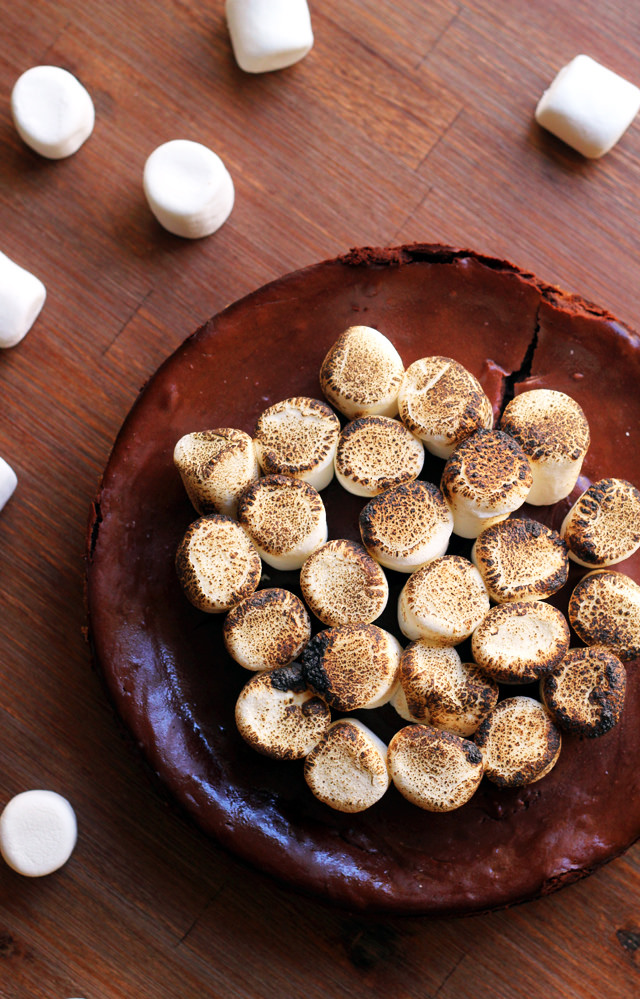 Yield:
1 10-inch cheesecake
2 cups graham cracker crumbs
1 stick unsalted butter, melted
¼ cup sugar
1 tbsp cinnamon
24 oz reduced fat cream cheese
1 cup sugar
2 tbsp flour
¾ cup cocoa powder
4 eggs, room temperature
1 cup lowfat sour cream
½ tsp vanilla extract
1½ cups mini marshmallows
½ cup hot fudge sauce, warmed until pourable
large marshmallows, for topping
For the crust, combine the graham cracker crumbs, butter, sugar, and cinnamon in a large bowl. Stir together until moistened thoroughly. Pour into a 10-inch springform pan and press into the pan so that it comes up about 1-inch on the sides. Let sit in the freezer while you prepare the filling.
Heat oven to 350F.
In the bowl of a stand mixer fitted with the paddle attachment, cream together the cream cheese, sugar, flour, and cocoa powder until combined, about 3-4 minutes.
Add in the the eggs one at a time, scraping down the sides after each addition.
Add in the sour cream and vanilla extract and beat on low until combined.
Remove the crust from the freezer and pour the mini marshmallows into it. Top with dollops of the hot fudge, spreading as evenly as possible. Pour the cheesecake filling over the marshmallows and hot fudge. Place the springform pan on top of a parchment or foil-lined baking sheet (in case of leakage!). Bake for 60 minutes.
Turn off the heat, leaving the cheesecake in the oven. Put a wooden spoon in the oven door so that it stays slightly ajar. Let sit for 60 minutes.
Refrigerate overnight or until chilled through.
Before serving, top with the large marshmallows and either use a blowtorch to char them or place under the broiler for a few minutes, but make sure you watch them carefully because they will burn quickly!