Bourbon Chocolate Chip Banana Bread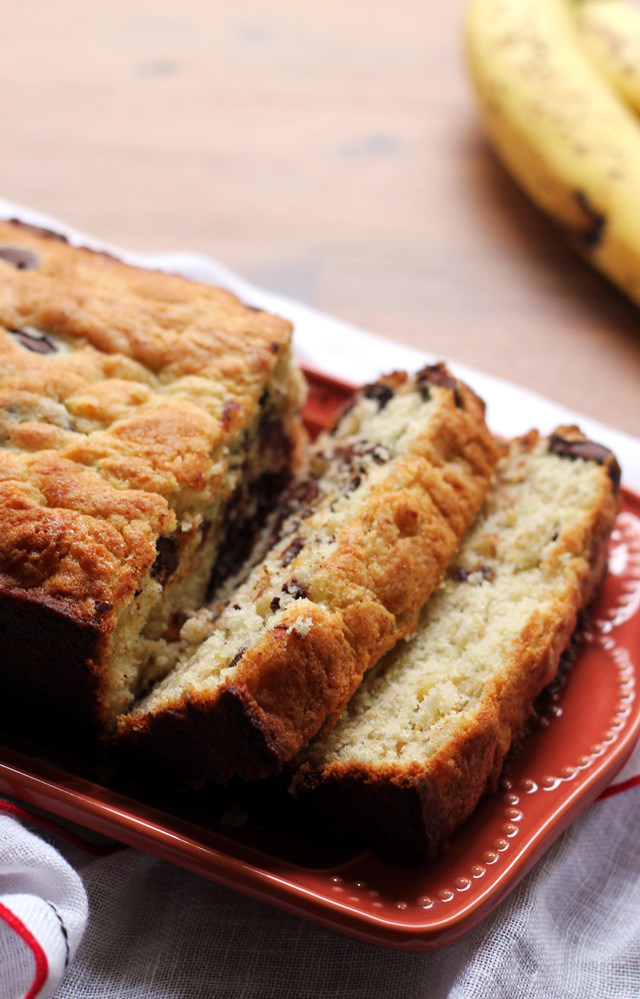 2 cups all purpose flour
3 tsp baking powder
½ tsp salt
½ cup unsalted butter, softened
1 cup sugar
2 large eggs
1½ cups mashed ripe bananas (about 3)
1 tsp lemon juice
3 tbsp bourbon
2 cups coarsely chopped chocolate
Heat oven to 350F. Grease a 9x5-inch loaf pan and set aside.
In a medium bowl, whisk together the flour, baking powder, and salt.
In the bowl of a stand mixer fitted with the paddle attachment, cream together the butter and sugar until fluffy, about 3-5 minutes.
Add in the eggs one at a time, beating for 1 minute after each addition. Scrape down the sides of the bowl. Mix in the bannas, lemon juice and bourbon. Mix until well-combined.
Mix in the flour on low until just incorporated. Fold in the chocolate.
Pour the batter into the baking pan and spread evenly. Bake for 45-60 minutes, or until a toothpick inserted in the center comes out clean.
Remove from the oven and let cool for 20 minutes before inverting onto a wire rack. Let cool completely before serving.
Recipe from
Joy the Baker Cookbook: 100 Simple and Comforting Recipes