Jalapeno Popper Kale Deep Dish Pizza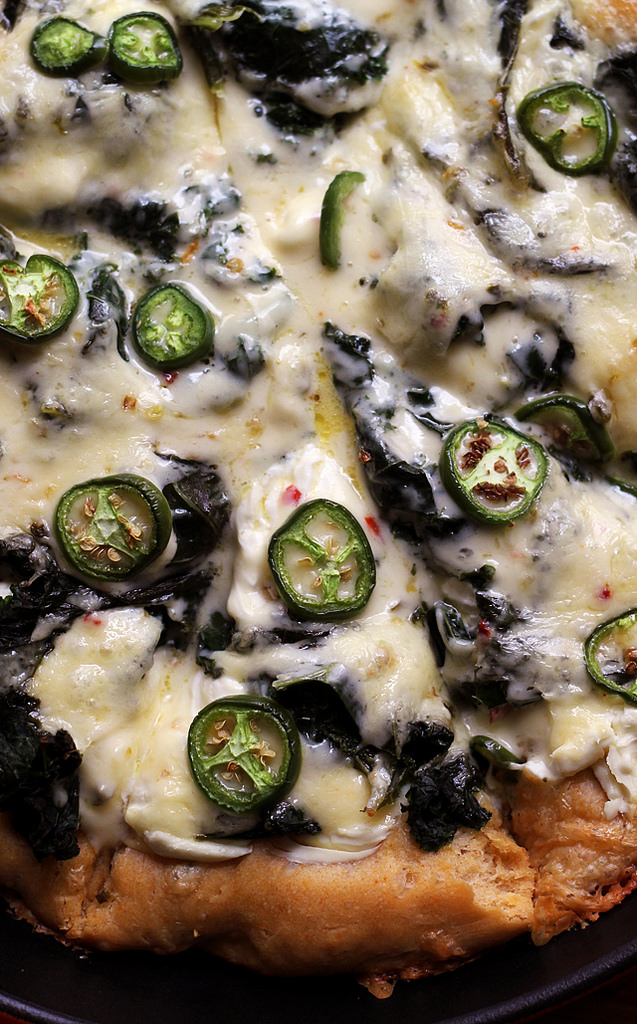 2¼ tsp yeast
1 cup lukewarm water, divided
pinch of sugar
2½ cups bread flour, divided
2 tbsp olive oil
1 tsp salt
1 tsp hatch chile powder
1 bunch kale, stems removed and leaves thinly sliced
8 oz low fat cream cheese, softened
2 jalapenos, thinly sliced
8 oz pepper jack cheese, grated
For the crust, in a small bowl whisk together the yeast, ¼ cup of water, and a pinch of sugar. Let sit while you prepare the rest of the dough. Meanwhile, in the bowl of a stand mixer fitted with the bread hook attachment, combine 2 cups of bread flour, olive oil, salt, remaining water, and chile powder. If the yeast has become foamy, then add it into the mix as well. If not, then it is probably dead and you should buy new yeast.
Mix on medium speed until well combined. If the dough is still sticking to the sides of the bowl after a minute or mixing, then add in more flour until it does not. Mix on medium-high speed for 4 minutes. Cover lightly with plastic wrap and let the dough rise in a warm, draft-free place until doubled in size, about 30 minutes.
Meanwhile, heat water in medium pot over medium-high heat and bring to a boil. Add the kale to the pot and cook for 2-3 minutes, or until wilted. Drain and set aside.
When the dough is ready to use, grease a 12-inch cast iron skillet. Heat oven to 425.
Spread the dough into the greased skillet so that it reaches the sides. Top with dollops of the cream cheese, kale, pepper jack, and jalapenos, leaving a 1-inch border around the edges. Bake for 15 minutes, or until cheese is bubbling and bottom of the dough is a golden brown. Let cool for 5 minutes before serving.
An Eats Well With Others Original
Recipe by
Joanne Eats Well With Others
at https://joanne-eatswellwithothers.com/2014/10/jalapeno-popper-kale-deep-dish-pizza.html