Sweet Potato and Brie Pizza with Kale Pesto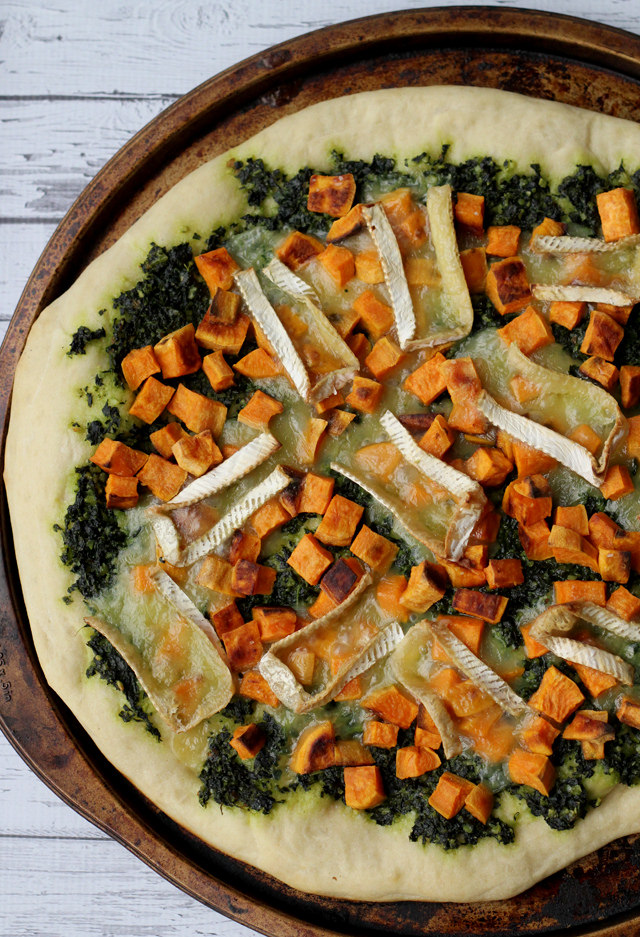 1 recipe for pizza dough
1 large sweet potato, peeled and cut into ½-inch dice
1 tbsp olive oil
1 bunch lacinato kale, leaves only
1 tbsp lemon juice
¼ cup sliced almonds
¼ cup grated parmesan cheese
¼ cup olive oil
salt, to taste
6 oz brie, thinly sliced
Heat oven to 400.
While pizza dough is rising, toss sweet potato cubes with olive oil. Spread onto a parchment-lined baking sheet. Sprinkle with salt. Roast for 30 minutes or until tender. Set aside.
Bring a medium pot of salted water to a boil. Boil the kale for 30 seconds. Remove with tongs and use paper towels to squeeze dry.
In a food processor, combine the cooked kale, lemon juice, almonds, and parmesan cheese. Process until coarsely chopped. Add in the olive oil and process until pureed. Season to taste with salt.
Increase oven temperature to 500.
Spread pizza dough out onto a greased pizza pan. Spread the pesto over the pizza, leaving a 1-inch edge all around. Sprinkle with sweet potato cubes and slices of brie. Bake for 10 minutes or until bottom is brown, dough is cooked, and cheese is melted.
Let rest for 5 minutes before slicing and serving.
An Eats Well With Others Original
Recipe by
Joanne Eats Well With Others
at https://joanne-eatswellwithothers.com/2014/01/sweet-potato-kale-pesto-and-brie-pizza.html