This butternut squash, spinach and feta pizza will be a major hit at your next fall pizza party!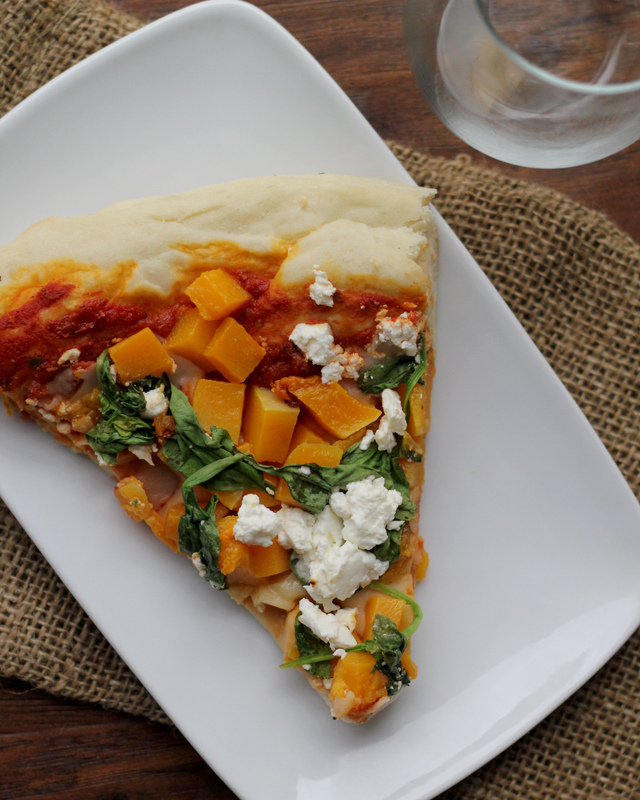 My dad's bus driver came to his wake.
Amidst coworkers, family, friends, people we hadn't seen or heard from in years. There was the MTA bus driver who facilitated his commute from Queens to Manhattan every day.
I will never know how he found out and I will almost certainly never see him again. But the fact that he was so moved to go out of his way to stop by and pay his condolences will forever be a testament to me of the kind of guy my father really was.
He touched the lives of everyone he encountered. With every passing interaction he changed you a little. Made you feel comfortable. Made you smile. Made your day a little bit better.
He was one of the great ones. Of that I am certain.
He has been gone for exactly a year now. And I miss him more than I ever thought it was possible to miss someone. With every ounce of my being.
And Dad. If somewhere, somehow, out there in the atmosphere you can read this or hear me. Just know that I love you.
My dad loved to make pizza. Almost every Friday night, he would pick up some rounds of dough from the local pizza place, thaw some sauce that he had frozen down in bulk from the freezer, throw that dough up in the air to let gravity and centripetal force do it's work in rolling it out, and get to it.
He would have rolled his eyes at this pizza, with the abundance of vegetables on it. But if I had asked, he would made it. And he would have tried.
And though he never would have admitted it (at least not to my face). I think he would have liked it. We sure did.
Three years ago…Homemade Italian Sausage and Roasted Red Pepper Lentil Stew
Four years ago…Grilled Fig and Brie Sandwiches
Butternut Squash, Spinach and Feta Pizza
This butternut squash, spinach and feta pizza will be a major hit at your next fall pizza party!
Ingredients
For the pizza dough
1 tbsp instant dry yeast
1 cup lukewarm water
pinch of sugar
3 cups bread flour
2 tbsp olive oil
2 tsp sea salt
For the toppings
1½ lb butternut squash, peeled and cubed
1 tbsp olive oil
1 cup tomato sauce
4 oz mozzarella, sliced
3 cups baby spinach
¼ cup feta, crumbled
Instructions
For the dough
In a small bowl, combine the yeast with ¼ cup lukewarm water (as warm as you can get it from the tap while still being able to stick your finger in it for a few seconds) and a pinch of sugar. Stir so that yeast dissolves. It should start to get foamy within about five minutes. If it doesn't, then your yeast is probably dead and the dough won't rise. Start again with new yeast. If it does, then push forward!
In the bowl of a stand mixer, combine the flour, remaining water, salt, olive oil, and now-foamy yeast. Mix with the dough hook attachment until just combine, then turn up speed to 4 or 5 and "knead" for five minutes or until dough is elastic.
Fold dough into a ball and place in a large, greased bowl. Cover with a damp towel and let rise in a warm place for about 2 hours or until doubled in size.
Punch down dough and let rest for 10 minutes. Roll out onto a pizza pan dusted with flour or cornmeal.
For the pizza
While the dough is rising, preheat the oven to 400. Spread the butternut squash cubes out on a parchment-lined baking sheet. Drizzle with olive oil and toss to combine. Sprinkle salt over squash cubes. Roast for 30-40 minutes, or until squash is tender.
Increase oven temperature to 500.
When the dough is ready, spread it out onto a pizza pan. Cover with the tomato sauce, leaving a 1-inch edge for the crust. Top with the mozzarella slices. Scatter the butternut squash over the top of the mozzarella. Top with the baby spinach and the crumbled feta.
Bake for 10 minutes or until bottom of crust starts to brown. Let rest for 10 minutes before cutting.
Notes
An Eats Well With Others Original