While everyone and anyone consumes themselves with making red-velvet-this and chocolate-covered-strawberry-that for the next five days.
I'm going to see the world through shades-of-cream-puff eyes.
Beige on beige is the new pink, after all.  With powdered sugar on top.
A crisp pate a choux shell surrounding a lusciously creamy vanilla rum custard…
The weight of years of Italian history coursing through your fingertips and out of your piping bag as puff after puff appears on a sheet of parchment paper…
I know Italian is the language of love.  But for real. Could anything be more romantic?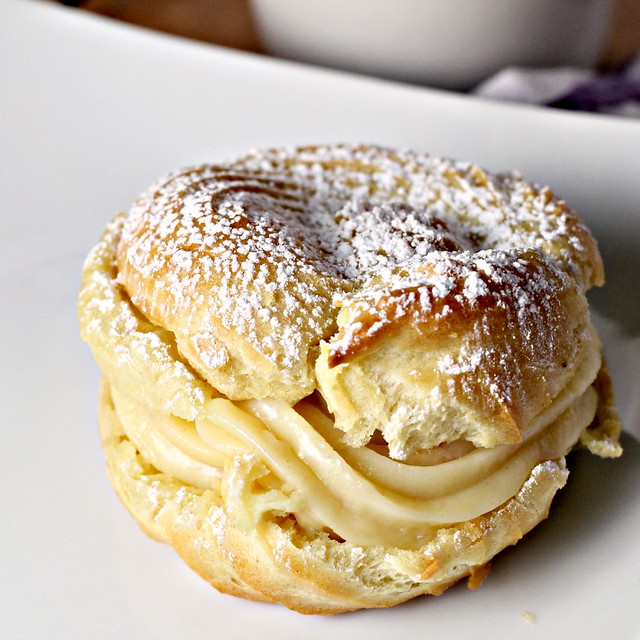 Hmmm?  What's that?
The thought of making a pastry dough that doesn't even have an English name is keeping you up at night and driving you to do crazy things like eat a pound of brussels sprouts at dinner last night?
Join the club.  And pull up a stand mixer.
Because it is way easier than you think.  Faster than mixing up and rolling out a batch of red velvet cake balls (talk about busy work).  And almost as straightforward as dipping blushing berries into a chocolate shell.
Actually.  Leave the stand mixer at home.
This is old school kinda stuff. We're doing this Italian grandma style.  Elbow-deep.

I made these as a tribute to my grandfather, because even though I couldn't bring him back for my father.  I could feed him something to remember him by.
These are traditionally only served on St. Joseph's Day (March 19th.), a day that is celebrated with extreme fanfare and lots of desserts in Italian culture (St. Joseph was the patron saint of pastry chefs…quite fitting given my grandfather's love of sweets), which means you can't find them at an Italian bakery when you're having a random cream puff craving in the middle of February.
My grandfather's name was Joseph and while we never celebrated a single other saint's day ever in our lives (and there is one to celebrate every weekend if you so desire), we always bought and ate St. Joseph's Day pastries, these cream puffs, on St. Joseph's day.  It was a way to honor him, even while he was still alive.
So while they were perfect this past weekend, as we celebrated his life, I think they'd also be pretty ideal for Valentine's Day.  If you're so inclined to think outside the red velvet box that is.
Nothing against red velvet (it is going to be my wedding cake, after all).  But making a cream puff for your cream puff.  Is so sickeningly cheesy romantic.  That you kinda have to do it.
For more Valentine's-friendly dessert ideas, check out this feature on Fox News's iMag, where they're featuring three of my recipes!
Also, if you pick up a copy of Rachael Ray's magazine this month, you might see a familiar face within it's pages….(cough mine cough).
Italian Cream Puffs with Custard Filling (St. Joseph's Day Pastries)
These Italian cream puffs with a rich custard filling are a classic Italian dessert. They are traditionally eaten on St. Joseph's Day, but I say indulge in them year-round!
Yield:
12 large or 24 small pastries
Ingredients
For the pastry
2¾ cups unbleached AP flour
⅛ tsp salt
½ tsp baking soda
2 cups water
9½ tbsp butter
6 large eggs
For the custard
1 cup sugar
½ cup flour
¼ tsp salt
3 cups whole milk
4 egg yolks
3 tbsp unsalted butter
1½ tsp vanilla extract
1 tbsp rum
Instructions
For the pastry
Preheat oven to 425. Line a cookie sheet with parchment paper. Sift the flour, salt, and baking soda together and set aside.
In a heavy saucepan, heat the water. Add the butter. When melted, remove the pan from the stove and add the flour mixture all at once. Beat with a wooden spoon, then return the pan to medium-high heat, beating the mixture until it comes away from the sides of the pan. Remove the pan from the heat and add the eggs one at a time, beating with a wooden spoon or hand mixer in-between additions to mix well.
Fill a pastry bag fitted with a ½-inch tip with the cream puff batter. Squeeze out 3-inch puffs, about ½ inch apart on a cookie sheet. Bake 20 minutes or until golden brown. When done, carefully slit the side of each cream puff with a knife to allow steam to escape and to prevent the puffs from becoming soggy inside. Transfer to cooling racks and let cool.
For the custard
In saucepan over moderate heat, combine sugar, flour and salt. Add milk gradually, cooking and stirring until mixture is thick and bubbly.
Lower heat, stirring for 2 minutes and remove from heat. In a small bowl, add cream mixture to eggs slowly. Return mixture back to pan. Bring to gently boil for 2 more minutes, adding butter, rum, and vanilla. Tranfer to a shallow bowl to cool, placing plastic wrap on the top of the custard to prevent a skin forming. Refrigerate.
Once custard has cooled completely, pipe into opened pastry shells until they are so full they might pop, top with a cherry, and dust with powdered sugar.
You are reading this post on Eats Well With Others at https://joanne-eatswellwithothers.com. Excerpts and links may be used, provided that full and clear credit is given to the author and or owner of Eats Well With Others. All rights reserved by Joanne Bruno.