Flaky, tender sour cream and onion biscuits that are begging you to make them for weekend breakfasts (or just everyday snacking!).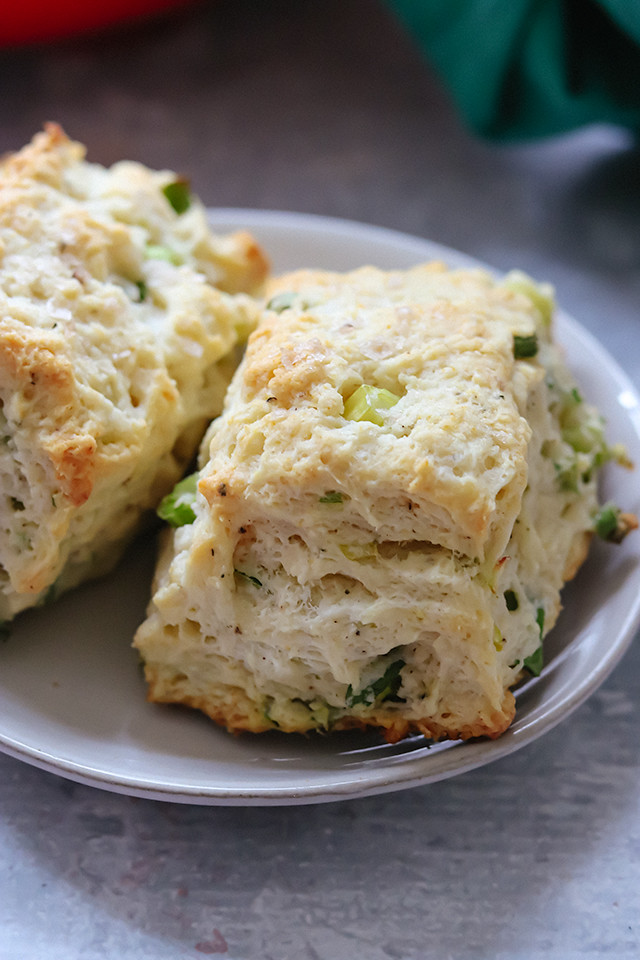 Now that I no longer have the weight of my entire career on my shoulder (buy bye Internal Medicine Boards – hopefully I passed haha) I am in the mood to bake all the things!
Seriously, I have homemade puff pastry, homemade pizza, tartlets, AND scones planned for this weekend. It's going to be…calorie-dense. And I'm going to luurrvvee every second of it.
Oh, and BISCUITS. Because there is always room for biscuits.
At one point during the intense phase of the NYC lockdown, I was literally making biscuits every week. It was glorious!!! But also kind of a lot, especially since my exercise consisted of walking from my couch to Remy's room then back to the couch again. And whatever calories you burn from stressing out about whether the itching in your big toe means that you've caught coronavirus.
On the bright side, we tried a LOT of different biscuit recipes and found these sour cream and onion biscuit GEMS.
(On the down side, my pants don't fit but WHATEVER. That's what elastic waistbands were made for.)
The onions in question here are scallions, which add the perfect allium tang to a light and tender biscuit dough. Sour cream adds fluff but also some tartness to the dough.
Then there's the dough folding method, which makes these INSANELY flaky and gives them a pretty perfect biscuit texture. Basically, you do a sort of quick lamination of the dough to create sheets of butter that then create the perfect flakes during the bake.
Your weekend, your quarantine, YOUR LIFE needs these. FOR. REAL.
Sour Cream and Onion Biscuits
Flaky, tender sour cream and onion biscuits that are begging you to make them for weekend breakfasts (or just everyday snacking!).
Ingredients
8 scallions
12 tbsp chilled unsalted butter, divided
2½ tsp kosher salt
1 tsp freshly ground black pepper
1¾ tsp baking powder
½ tsp baking soda
1¼ tsp sugar
2½ cups flour
1¼ cups sour cream
flaky sea salt
Instructions
Heat oven to 425F.
Trim the roots from the scallions. Thinly slice crosswise and set aside.
Melt 2 tbsp of the butter and set aside.
Whisk together the salt, black pepper, baking powder, baking soda, sugar, and flour in a large bowl.
Cut the remaining 10 tbsp of butter into ½-inch pieces. Use your fingers to cut the butter into the flour mixture, smashing it with your fingers and rubbing it into the flour until there are mostly pea-sized bits of butter. Add in the scallions and toss to combine.
Create a well in the center of the dough and pour the sour cream into the center. Use a fork to mix it together until clumps start to form.
Pour the dough onto a lightly floured surface and knead until it starts to come together. Pat the dough into an 8x4-inch rectangle.
Working from a short side, fold the dough into thirds as you would a piece of paper if you were trying to fit it into an envelope. Pat it again into an 8x4-inch rectangle then fold it in thirds again. Pat again into an 8x4-inch rectangle.
Cut the rectangle into 8 equal sized biscuits. Transfer to a parchment-lined baking sheet. Brush with the reserved melted butter and sprinkle with flaky sea salt. Bake until golden, 18-22 minutes. Serve warm.