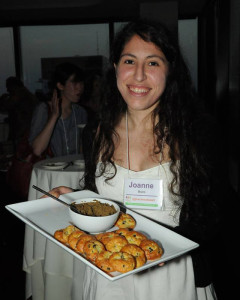 I'm Joanne, the writer, photographer, and eater behind Eats Well With Others.
I started this blog back in 2009 during my senior year in college as a way to teach myself how to cook and avoid dorm food (and, consequently, high cholesterol) at all costs. What started as just a spur-of-the-moment whim has morphed into something I spend the majority of my time thinking about, an obsession if you will. This blog has undergone a lot of changes over the past five years, most notably that about two years ago, I embraced a vegetarian whole-foods based lifestyle and haven't looked back. That being said, I still eat sushi when the mood strikes and I always make room for dessert. Always.  And I hate most salads. Yes, I'm that kind of vegetarian.
During the day, I moonlight as an MD/PhD student in New York City where I spend my hours trying to further elucidate the molecular mechanism of insulin signaling in fat cells. While simultaneously pondering what I should bake next. Suffice it to say, it's a balance. And I pretty much just don't sleep.
I also run marathons to raise money for cancer research through Team in Training (and also to mitigate the effects of all of that aforementioned baking). When I first started running with them, I didn't really have a connection to the cause, but my dad passed away in September of 2012 from liver cancer and suddenly my reasons for doing it became all that more real. If you are even slightly considering training for an endurance event, I highly recommend doing it with them. Let's just say once you drink the purple Kool-Aid, you never go back.
I currently live in a fairly tiny studio with my boyfriend (commonly referred to as The.Boy) on Manhattan's Upper East Side. We met online and I am eternally grateful that he doesn't mind eating lukewarm food or postponing dinner so that I can get that perfect shot.
If you are interested in working with me on product reviews, giveaways, recipe development, food photography, ambassador partnerships or press trips, then please contact me at [email protected].  Or, if you just have a random question about a recipe, life, or just want to say hi, you can contact me there as well!
Thanks so much for stopping by! I hope I've inspired you to get into the kitchen and get cooking.