Cherry chocolate chip cake is a fluffy white triple layer cake stuffed with the decadence of chocolate covered cherries – perfect for Valentine's Day!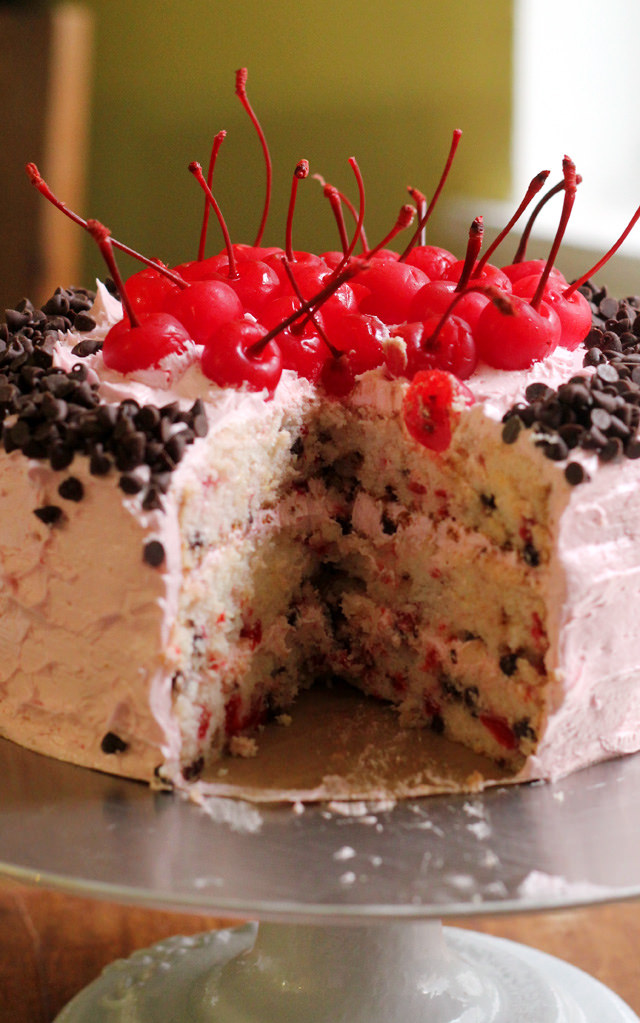 What is it that they say about "best laid plans"?
If you're a long time reader, then you know I try to reserve my most decadent of decadents for Friday, but UGH. LIFE.
A cloudy morning + earlier than normal lab meeting + THERE IS NEVER ENOUGH TIME meant that yesterday morning I had to choose between photographing this cake or a salad.
I'll give you one guess what won.
So….Thursday Cake and Friday Salad!
It's a really good, Friday-worthy salad I promise.
And this cake is really too good for Thursdays, which are pretty much the black sheep of the workweek.
But here we are. Let's roll with it.
It makes you want to do cartwheels, doesn't it?
SAMESIES.
I wish I could tell you there was some really deep meaning or inspiration behind this cake to make up for the whole Thursday/Friday mix-up, but honestly I just typed "Valentine's Day" into the America's Test Kitchen website.
And there it was.
They described it as tasting like chocolate covered cherries but BETTER.
In typical ATK fashion…they were right.
The cake base is pretty much the fluffiest of fluffy white cakes with some mini chocolate chips and cherry pie filling cherries mixed in. The cherry pie filling itself is drained before you use it so that all the high fructose corn syrup goes down the drain while you are left with, well, just the cherries. It's a good deal.
BAKE –> COOL –> FROST with EASY, FLUFFY vanilla buttercream that has been dyed just the slightest hint of pink. Garnish with mini chocolate chips and some good old maraschinos.
Perfect for Valentine's Day or, you know, Thursday. Just because.
Cherry Chocolate Chip Cake
Cherry chocolate chip cake is a fluffy white triple layer cake stuffed with the decadence of chocolate covered cherries - perfect for Valentine's Day!
Yield:
1 triple layer cake
Ingredients
For the cake
nonstick baking spray
1 (21 oz) can cherry pie filling
1 cup whole milk
6 large egg whites
2 tsp vanilla extract
2¼ cups cake flour
1¾ cups sugar
4 tsp baking powder
1 tsp kosher salt
12 tbsp unsalted butter, softened
½ cup mini chocolate chips, plus more for decoration
1 (10 oz) jar maraschino cherries, drained
For the buttercream
2 tsp vanilla extract
2 tbsp heavy cream
pinch of salt
2½ cups powdered sugar
20 tbsp unsalted butter, softened
Instructions
Heat oven to 350F. Spray three 8-inch cake pans with nonstick baking spray. Set aside.
Drain and rinse the cherry pie filling with cold water. Press cherries between two paper towels, making sure they are as dry as possible. Chop finely and measure out ½ cup. Discard the rest.
In a large measuring cup, whisk together the milk, egg whites, and vanilla. Set aside.
In the bowl of a stand mixer fitted with the paddle attachment, combine the flour, sugar, baking powder, and salt. Mix on low to combine. Add the butter to the flour mixture and beat on low speed until the mixture resembles wet sand.
Add in all but ½ cup of the milk mixture to the batter. Mix on medium speed for 1½ minutes. Add the remaining milk mixture and beat for another 30 seconds. Scrape down the mixer bowl and then beat for another 20 seconds.
Fold the chopped cherries and the chocolate chips into the batter. Divide evenly among the three cake pans. Bake for 21-25 minutes, or until a toothpick inserted in the center comes out clean.
Let cakes rest in their pans for 10 minutes, then invert onto a large plate and invert again onto a wire rack. Let cool completely.
For the buttercream, in a stand mixer fitted with the whisk attachment, beat butter on medium-high speed until smooth. Add in the powdered sugar and mix on low until starting to combine, about 45 seconds. Scrape down the bowl and beat on medium speed for 15 seconds. Scrape down the sides of the bowl and then add in the vanilla and heavy cream. Beat at medium speed until incorporated, and then increase speed to medium-high. Beat for another 4 minutes, or until fluffy. Beat a few drops of pink food coloring into the frosting and beat until combined.
Spread ¾ cup of buttercream onto the bottom cake layer. Top with the middle layer and then frost that with ¾ cup of buttercream. Top with the final layer and frost the top and sides with the remaining buttercream. Garnish with the maraschino cherries and any remaining chocolate chips.
 More decadent cakes: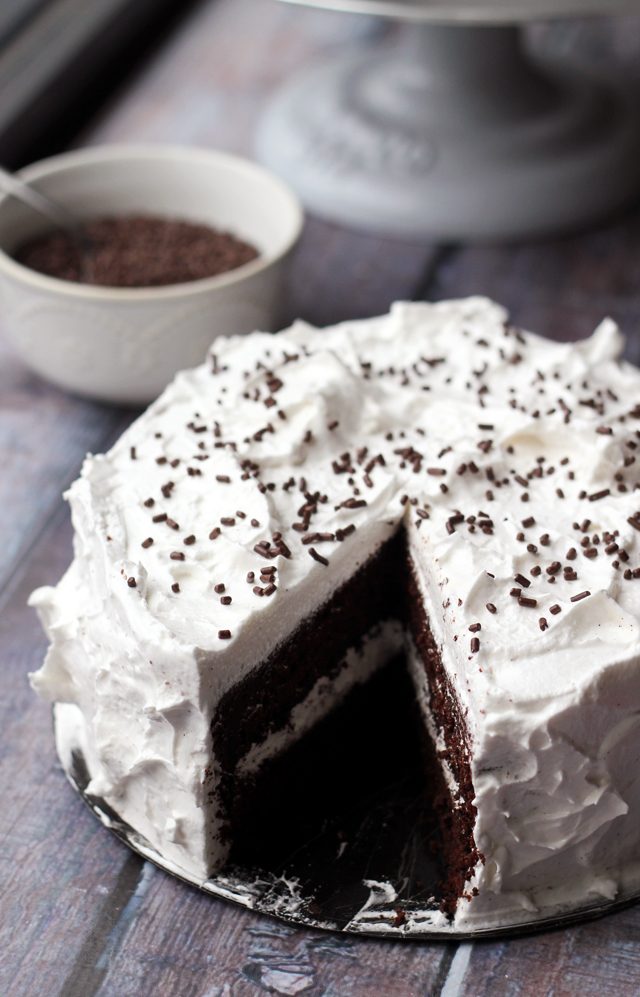 Devil's Food Cake with Angel Frosting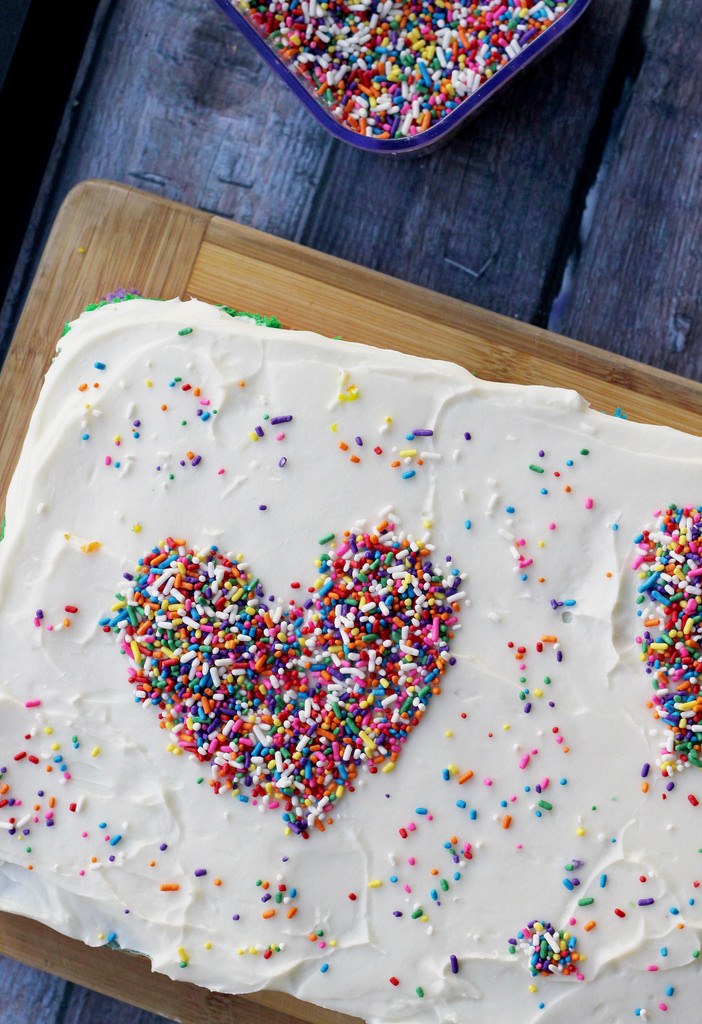 The Lovers, The Dreamers and You Rainbow Cake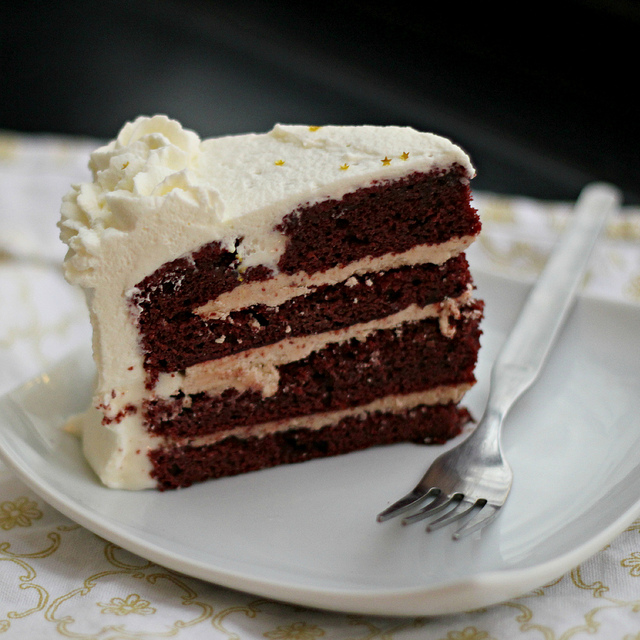 Red Velvet and Cinnamon Layer Cake
From Around the Web:
Chocolate Cake with Mexican Chocolate Frosting from Baking A Moment
Mini Red Velvet Cheesecakes from Baked By Rachel
Mocha Cake with Nutella Italian Meringue Buttercream from La Peche Fraiche
Double Chocolate Cake with Raspberry Buttercream Filling from Spoonful of Flavor
Marzipan Moose Mousse Cake from My Name is Yeh