Disclosure: This post was sponsored by HP. As always, my thoughts and opinions are my own.


Getting healthy is one part intention, one part execution, and a few parts "if at first you don't succeed try, try again".
I know I wake up every day and tell myself I'm only going to put the BEST THINGS in my body. But really this time.
Then my experiments in lab fail and I get home from work "too late" to go to the gym and eating a few handfuls of dark chocolate-covered espresso beans never hurt anyone, did it? All of a sudden I'm swearing I'll do better tomorrow and dialing the sushi place across the street to deliver dinner.
This is what I would call an execution FAIL.
In my experience, the key to avoiding this type of disaster is to PLAN, PLAN, PLAN. And then plan some more. If we only surround ourselves with healthy food choices, then we can only eat healthy food choices. To this end, I've made a list of my favorite healthy Eats Well With Others recipes that will help us stay on track in the new year and also compiled a list of my favorite meal planning tips and tricks.
2015 = we've got this.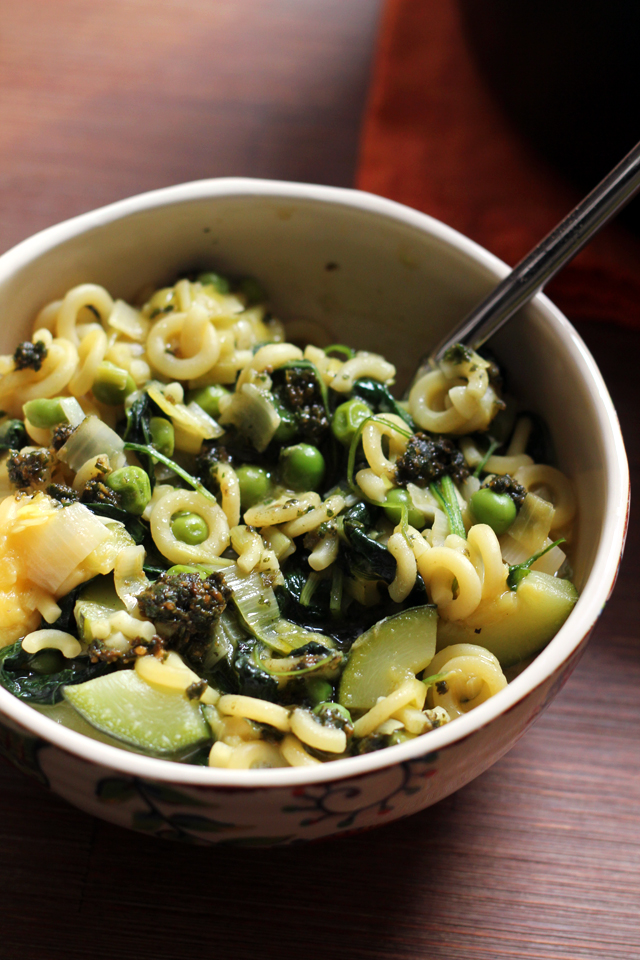 Soups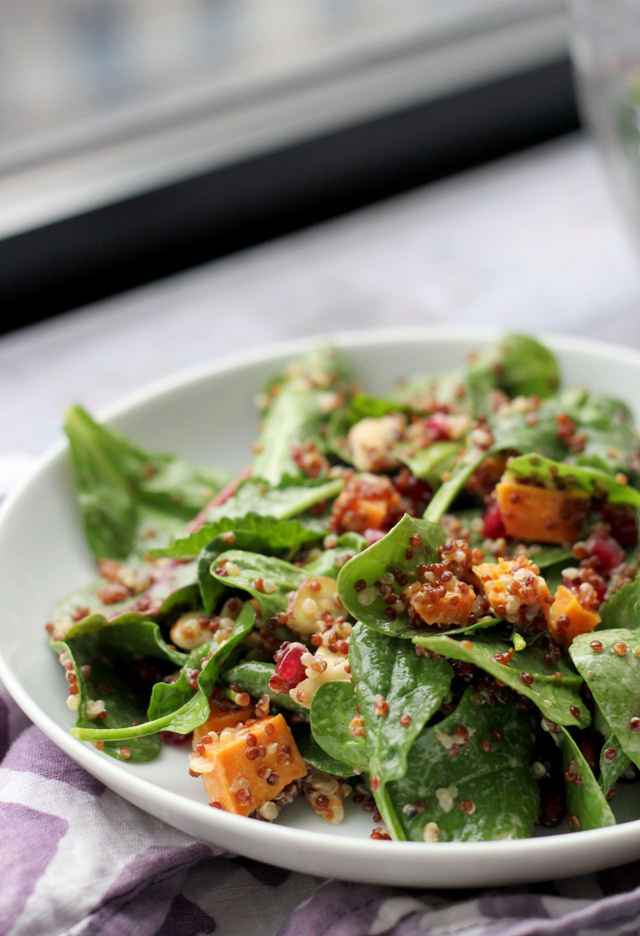 Salads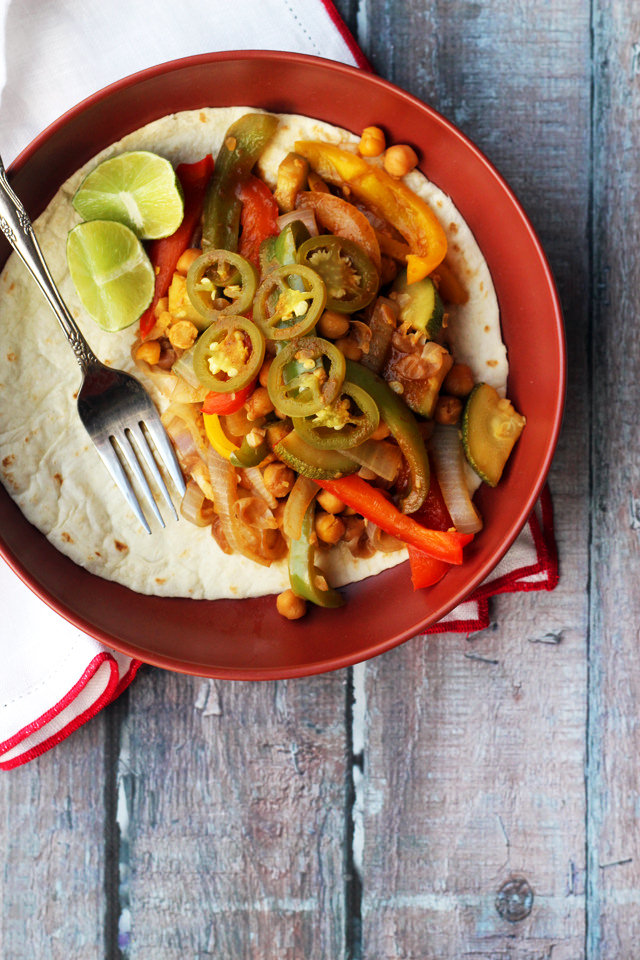 Main Meals
Now. Let's talk meal planning.
I know some people are more fly-by-the-seat-of-their-pants when it comes to cooking, but I have to be honest – I live and die by my meal plan. If it's not on the meal plan, it doesn't get made. And that's final. This helps me not only to organize for the week, which helps me to stay on track, but it is also a great way to save money!
Here's my process: a week before every month starts, I make a list of all the recipes I want to make for the blog and pencil them into a calendar. Then, once a week (usually on Wednesday), I figure out what I have scheduled to cook for that week as well as what I want to make "just because".  I try to make sure we have a good mix of meals so that we're not eating the same type of thing every day (and so that I'm not posting the same type of thing every day). The.Boy and I eat almost every dinner at home and I always take leftovers for lunch. For us, this means I usually end up needing to make 4-5 dinners a week or we'll run out of food.
On Friday, I make a shopping list and hit the grocery store. Having a list helps prevent me from buying random things that will just end up going to waste. It also ensures that I'll only have to make one trip to the grocery store each week, which saves time and money.
Then, the weekend is when the magic happens! I try to do as much cooking as I can on the weekend for a few reasons: (a) it's when I have the most time, (b) it's when I have the most natural light to take photographs, and (c) it feels so great to start off the workweek knowing that we have a fridge full of good food so that I don't have to stress (or cook!) during the week.
Now, obviously what works for ME isn't necessarily wasn't going to work for you. I am a crazy person who rarely makes the same recipe twice, I don't have kids, I photograph my food, etc. However, here are a few tips and tricks I've stumbled upon along the way that I think are fairly universal.
1. Make a list of 40-50 recipes that you know your family will love. And then rotate these every week! This way you are not always cooking something new, but you're also not cooking the same thing all the time, and there will be far fewer eye rolls at the table if these are tried and true recipes that you know everyone will enjoy.
2. Give each day a theme. Meatless Monday, Taco Tuesday, Pizza Friday, etc. It makes it much easier to figure out what to make if you already have an outline to guide you.
3. MAKE A GROCERY LIST. I really cannot emphasize this enough. Not only will it save you time because you'll only have to go to the grocery store once, but it will also SAVE YOU MONEY. Less food will go to waste, which means more money in your pocket.
4. Prepare what you can ahead of time. This is something I fail at on a weekly basis, but I always aspire to prep what I can on the weekends so that on weekdays it is so much easier to tackle cooking dinner after (or before) work.
5. Make recipes that contain more perishable ingredients first. I don't even want to tell you how many times I've opened my fridge to make a recipe and found a slimy container of kale because I waited too long to use it. Try to make recipes with produce that won't keep as well at the beginning of the week (think leafy greens, string beans, summer squash) and save those recipes that contain heartier veggies (cauliflower, broccoli, winter squash, potatoes, cabbage) for later in the week.
6. Put an egg on it. Not everyone loves eating leftovers, so reinvigorate them by turning them into something completely different OR just top them with a fried egg. It is a game-changer.
7. Don't forget breakfast, lunch, and snacks! Or you'll finding yourself heading to the grocery store come Monday morning. Again.
8. Don't stress if it doesn't work out one week. Pretty much every week, I have to bump recipes from one week to the next or just forget about them entirely. It happens to all of us. Don't sweat it.
9. Keep a well-stocked pantry! I try to always have certain things on hand that I can turn into dinner on a moment's notice. You can pretty much turn any leftovers into an omelet, pizza, or pasta dish, so I try to keep all the ingredients I need to make these three things in my kitchen at all times.
10. Find a cute weekly planner that will make you WANT to meal plan! Like this one: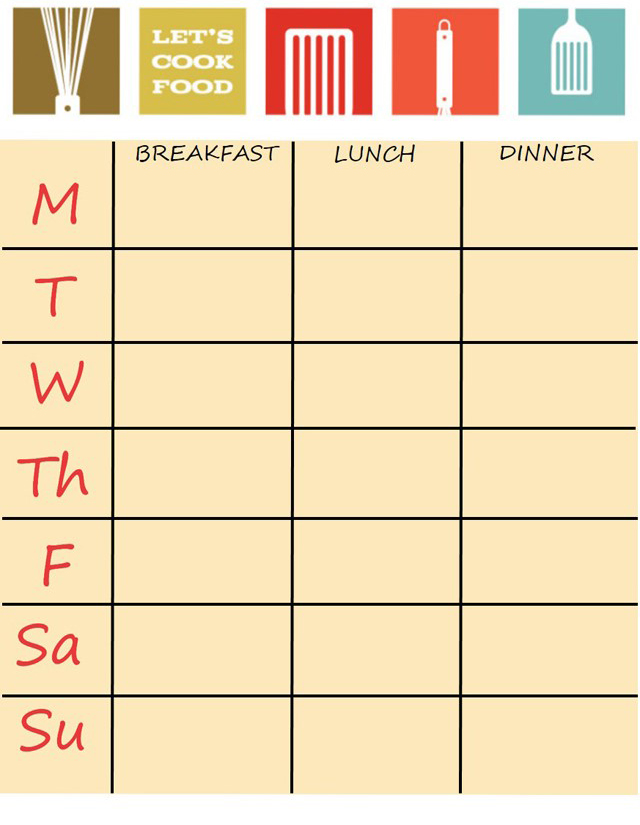 To download it, either click on the photo above, or go to this link.
I created this printable using my Sprout by HP. It's basically a desktop that is actually a creativity station. But is also a PC. Mostly it's just all around awesome.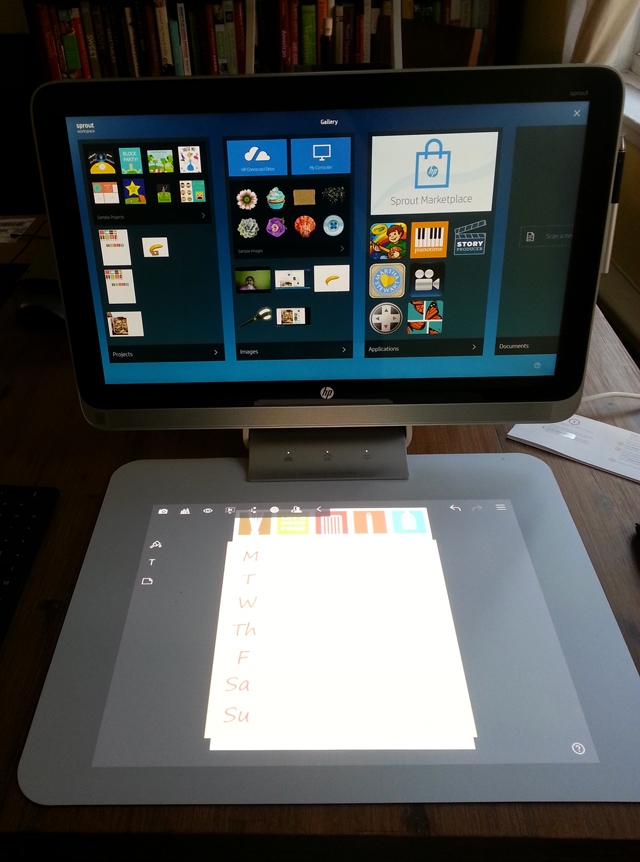 Both the screen and the pad that it comes with are touch-controlled (though there are a mouse and keyboard that you can use), which makes it so much easier to make graphics like what you see above. The pad can also be used to scan 3D objects, which can then be incorporated into whatever graphics you are trying to create. There really is no limit to how creative you can get with this computer and I can't wait to see what else I can make with it. To see how others have gotten creative with their sprout, follow the hashtags #sproutbyHP and #CIY on Instagram and Twitter!