Start your day off right with this healthy two-potato hash with poached eggs and greens.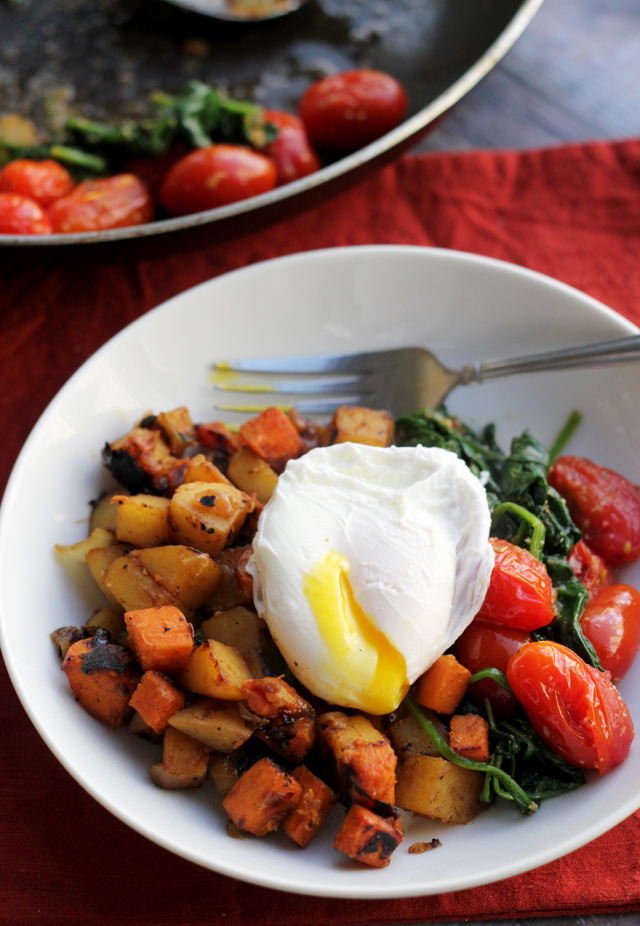 It's not really a hash until something gets charred.
Those sweet, smoky, sultry bits?
That's how we do it people.
Because if we're going to start the day, we'd best be doing it right.
Eating the rainbow at breakfast? Check.
Getting a solid dose of runny egg yolk? Check.
Shoving your face in the plate because fork-to-mouth time is really the limiting step in this whole process and WHY IS THIS MEAL NOT ENTERING YOUR MOUTH FAST ENOUGH? Check. Check.
Let's do this.
I had the great pleasure of taking a Health Starts Here tour at Whole Foods recently with NYC's Healthy Eating Specialist, Kelly, where I learned so much about the Health Starts Here program, which is aimed to guide you in getting the most nutritious bang for your buck (the content of which inspired this meal!). To be part of the Health Starts Here program, a product must comply with Whole Foods' 4 Pillars of Healthy Eating – (1) it must be made with whole foods – nothing processed here!, (2) it must be plant-based, (3) it must contain only healthy fats, and (4) it must have a high nutrient density. You can find the Health Starts Here-friendly products in your store because they will be labeled with the Health Starts Here logo!
If you've ever shopped in a Whole Foods, you know that the first section you encounter upon entering is the produce section. It is a veritable smorgasbord of color, with fruits and vegetables lining every wall and shelf, aimed to encourage you to eat the rainbow. Next, is often the meat and fish section, and here the Health Starts Here program encourages consumers to eat small quantities of high quality, sustainable meat and fish, with the focus of the meal really still being on eating your vegetables. Many of the stores have a bulk section, which allows for exploration of new healthy grains, beans, seeds, and nuts – you are encouraged to try small amounts of new products without having to make a huge commitment if you don't end up liking them! (Plus it also tends to be a bit cheaper when you buy from the bulk bin.) And finally, there is the frozen produce section, which can sometimes be even healthier than the fresh produce section. Because frozen vegetables are frozen at the peak of the season and often mere hours after being picked, they are filled with even more nutrients than veggies that have to travel to get to your local Whole Foods. So for fruits and vegetables that aren't in season, or aren't locally grown, the frozen aisle is definitely the way to go. Again, these are also much more cost effective! Then, for those of you who need some quick weeknight meal options, Whole Foods also sells Health Starts Here dinner kits, which will get healthy meals on your table with minimal effort from you.
If you guys have any other questions about the Health Starts Here program OR want to take a tour yourself (they are great at modifying them for various dietary needs/restrictions) then ask about them in your local Whole Foods! In addition, to help you guys out on your own personal Health Starts Here journey, Whole Foods has offered to give away a $50 gift card to one of my readers! All you have to do to enter is leave a comment telling me what your favorite healthy meal is. Giveaway will end Sunday March 24th at 11:59PM (EST) and winner will be announced on Monday March 25th!
Two-Potato Hash with Poached Eggs and Greens
Start your day off right with this healthy two-potato hash with poached eggs and greens.
Ingredients
2 tbsp olive oil, divided
1 onion, finely chopped
¾ lb Yukon gold potatoes, peeled and cubed
¾ lb sweet potato, peeled and cubed
3 garlic cloves, minced
salt and black pepper, to taste
1 pint grape tomatoes
5 oz baby spinach
1 tsp Italian seasoning
1 tbsp distilled white vinegar
4 large eggs
Instructions
In a large nonstick skillet, heat 1 tbsp olive oil over medium-high heat. Add the onion and saute until tender, about 5 minutes. Add in the potatoes, a good pinch of salt, and garlic. Cook for 25 minutes, stirring occasionally, until potatoes are tender. Season with salt and black pepper to taste.
Meanwhile, heat the second tbsp olive oil in a second large skillet over medium heat. Add the grape tomatoes to the pan and saute for 1 minute, or until starting to blister. Stir in the spinach, cooking until just wilted. Add in the seasoning and salt, to taste.
To poach the eggs, fill a medium pot with water so that it is about half full. Bring to a boil. Reduce the heat to a simmer and add 1 tbsp vinegar. Break each egg into a small ramekin and pour it gently into the pan. Cook for 3 minutes. Remove with a slotted spoon and serve atop the hash and spinach.
Nutrition Information
Serving size:
¼ of recipe