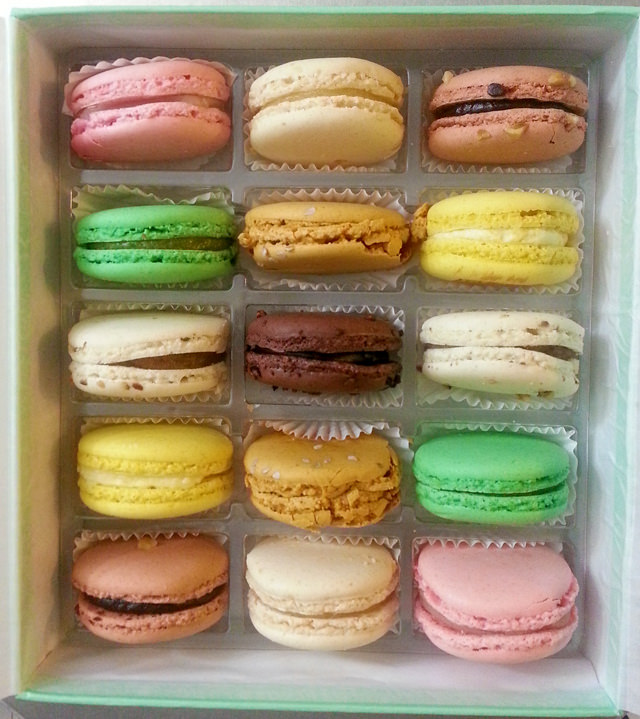 1. The only thing better than making a batch of macarons yourself is having them delivered straight to your doorstep (/mail room) from NOLA! As a thank you (and to show us what real macarons should look like), Sucre sent all of the bakers who participated in their Macaron Baking Challenge a box of assorted macs. My favorite was the salted caramel. No contest. I think the.boy is mac'ed out though, because I tell him every other day that I'm going to make more macarons and his response is, without fail, "Why?". Yet he can eat Russell Stover chocolates for weeks on end without complaining. I will never understand his taste buds.
2. Speaking of which, have you gone over to vote for my snickerdoodle macarons yet?? Pretty please with a cherry(-flavored mac) on top!?
3. We finally booked our engagement photo session with Brian! Now, I just have to figure out what to wear, how to make my hair look less like a poofball, and how to look like I'm ten pounds less. Suggestions strongly needed.
4. Open up your google calendars and mark down April 21st as ULTRA IMPORTANT…because I'm hosting a Virtual Bake Sale that day and you will have the chance to have my baked goods (along with many other bloggers' deliciousness) IN YOUR HOME AND BELLY! Longtime readers know that I run marathons and half marathons to raise money for the Leukemia and Lymphoma Society. On April 27th I'm running the Nike Women's DC Half Marathon with Team in Training and LLS, and raising money to fund patient care and cancer research. While I don't have a direct connection to blood cancer, my dad died of cancer a year and a half ago, so this cause is near and dear to my heart. A few of my blogging buddies have been gracious enough to donate some baked goods that will go up for auction on April 21st! ALL of the proceeds will go to the Leukemia and Lymphoma Society, so get ready to bid! And if you would like to donate a baked good, then definitely feel free to reach out to me!! If you're not into the bake sale, but still want to donate, you can do so here!
5. Is anyone else concerned that the Easter bunny is going to get frostbite making his rounds this weekend? Should I be leaving him hot cocoa instead of carrots? Or a down jacket?
6. The.Boy can't eat meat or dairy (or, supposedly olive oil, but I told him I just couldn't accommodate that so we're ignoring that one) from Wednesday though Sunday, because Greek Orthodox Lent. So obviously, I planned a whole week full of meals that involve cheese, piled on cheese, served with more cheese. #fiancefail #moreforme #pbandjcountsasdinner
7. Oh, you thought I would give up dairy with him for moral support? That's cute.
8. I did make him a quinoa salad that I might remake for Easter because YUM (posting tomorrow), but it took all my strength not to add feta or baby marinated mozzarella balls to it. The things I do for love.
9. Speaking of butter, do you guys want to see a rainbow cake or a coconut cake on Friday? I love them both so much I can't decide!!
10. Blog technical issues ARE THE WORST. Like, when your site is down for three hours and your host keeps accusing you of having too much traffic and being a resource hog, but you really have a feeling it's a brute force attack, and so you take to day drinking. Thank god for Sucuri and their firewalls. Peace of mind: restored.