The ULTIMATE pimento cheese stuffed black bean burgers! These are crispy on the outside, packed with flavor, and filled with a gooey cheesy center – doesn't get much better than that.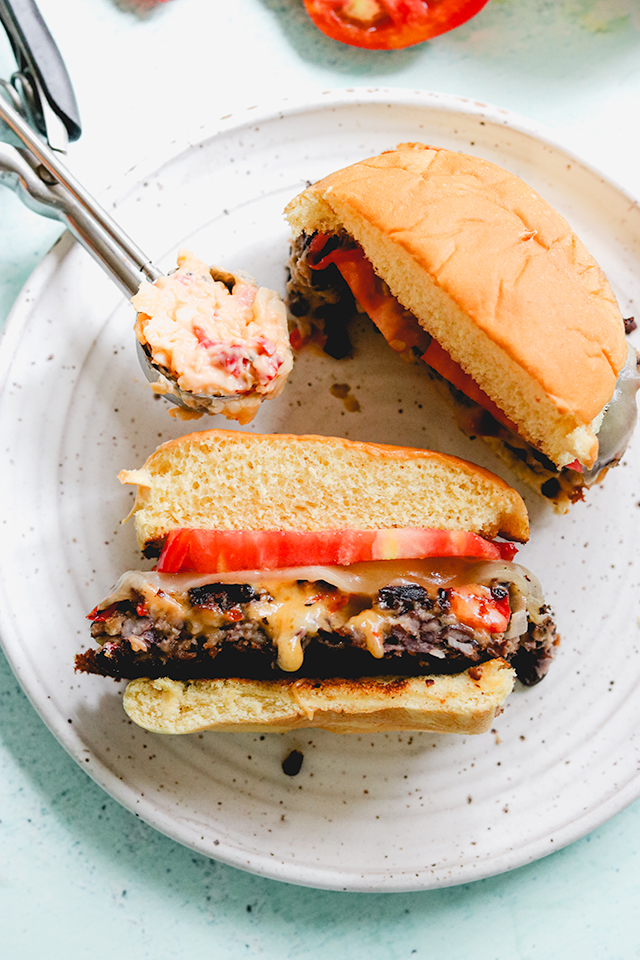 Get ready to be blown away by a VEGGIE BURGER, of all things.
And no, it's not one of those manmade plant-based meat copycat burgers made of synthetic material. I've tried those and just can't handle them. They're kind of creepy, if you ask me.
No, no, no – we're going back to our black bean burger basics and it feels so good!!!
I don't know about you guys, but I just love a good bean burger. They are so infinitely adaptable to whatever you're craving and all it takes is changing up your legume of choice to turn them into a completely different flavor experience.
These start with my absolute favorite black bean burger base. 
It's simple, packed with flavor, and ends up texturally perfect. 
The burgers feature both mashed and whole beans, along with bell peppers and diced shallot for crunch. They use both eggs and panko for binding, which allows them to hold together really well in a skillet. I've been degraded to a swearing mess by many a crumbly fragile bean burger in the past, so ensuring these were sturdy and durable, and would hold up well to the cooking process was really important to me. 
I fry these up in a skillet because I love the crispy exterior that only a bath in hot oil can achieve, but they can also be baked at 375F for about 30 minutes. I haven't tried to make them in an air fryer, but I'm betting that would probably work too and would give them a crispier outer shell than baking will.
That's all well and good, but what really makes these extra amazing is their gooey molten cheese center!!
They are stuffed with pimento cheese spread prior to cooking, which turns all melty and perfect during the cooking process and explodes in your mouth on the first bite. It is the absolute best – even my meat-loving husband agreed that these were pretty close to burger perfection.
I chose to be lazy and use a storebought pimento spread but if you have a favorite recipe, feel free to use that instead.
Add a slice of cheddar to the burgers during the last few minutes of cooking for an even cheesier eating experience and make sure to top them with fresh tomato slices and serve them on toasted buns. 
We forgot the tomatoes and bun toasting with some of the leftovers and it was really not the same.
Consider yourself warned.
Please try these this weekend (or tomorrow, they are totally doable for a weeknight) so we can be black bean burger BFFs.
I'll take any excuse to make them again.
Pimento Cheese Stuffed Black Bean Burgers
The ULTIMATE pimento cheese stuffed black bean burgers! These are crispy on the outside, packed with flavor, and filled with a gooey cheesy center - doesn't get much better than that.
Ingredients
2 (15 oz) cans black beans, drained and rinsed, divided
2 large eggs
5 tbsp olive oil, divided
1 tsp ground cumin
¼ tsp salt
⅛ tsp cayenne pepper
1 cup panko bread crumbs
1 red bell pepper, seeded and finely chopped
1 shallot, minced
9 tbsp pimento cheese spread
6 slices of cheddar cheese
6 heirloom tomato slices
6 burger buns, toasted if desired
Instructions
Place 2½ cups of the beans in a large bowl and mash until smooth. In a separate bowl, whisk together the eggs, 1 tbsp oil, cumin, salt, and cayenne. Stir together the egg mixture, remaining beans, panko, bell pepper, cilantro, and shallot. Mix into the mashed beans.
Form the burger mix into 6 patties. Divide the pimento among the patties (about 1.5 tbsp per burger) and stuff inside them so that the black bean mixture completely surrounds them.
Heat 2 tbsp olive oil in a 12-inch nonstick skillet over medium heat until shimmering. Place 3 patties in the skillet. Cook until browned on both sides, about 4-5 minutes per side, adding the cheddar cheese slice on top in the last two minutes of cooking. Repeat with remaining oil and patties
Serve warm on burger buns topped with tomato slices.
Notes
An Eats Well With Others Original